Prices start from INR 100 per day, which increases depending on car chosen.
If the unlimited kilometre option and the size of its network across India (in 21 cities) are not attractive enough, Myles' new 'Loss Damage Waiver' option could be.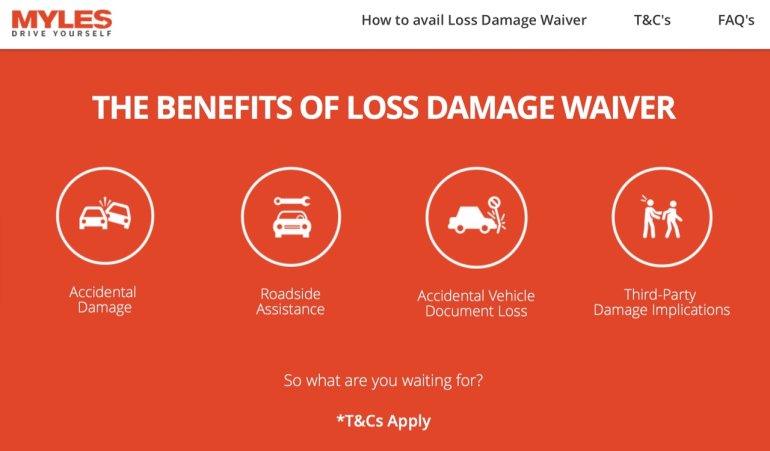 For a fee starting from INR 100 per day, customers can choose the Loss Damage Waiver option while booking their desired car, for which a refundable security deposit is fully waived off at the time of booking. With the Loss Damage Waiver, the hiring party is also not liable for any damages caused in an accident, unless the claim is rejected under motor vehicle base insurance policy. Note that the Loss Damage Waiver will not cover any penalties and fines incurred during the rental period.
To find out how much would it cost to hire a car with the Loss Damage Waiver option, we opened the Myles Cars website (can be done through the Myles app, as well) and selected an Honda Amaze diesel for a day in Pune. After registering and filling in the details, you'll be presented with two options in the payment page: Loss Damage Waiver or Refundable Security Deposit of INR 5,000. For a day with the Amaze, the LDW costs INR 150, and brought the total amount to a competitive INR 1,909.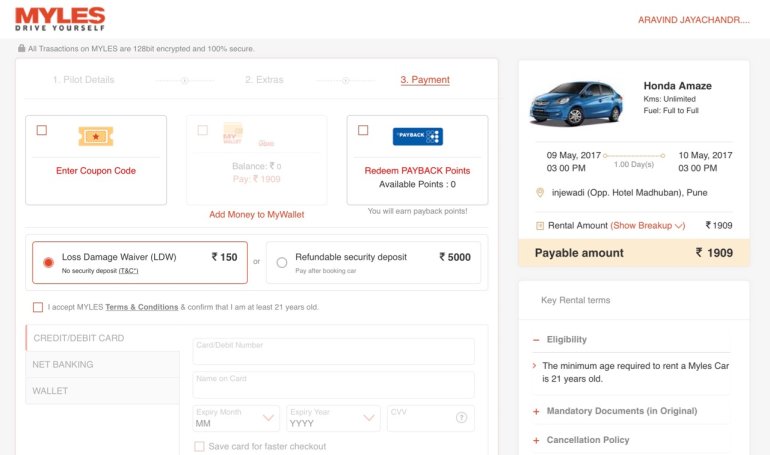 Also Read: Exploring the outskirts of Pune with a Honda City AT from Myles
Myles has also revised the minimum age limit by bringing it down to 21 (down from 23) and, thankfully, increased the speed limit to 120 km/h (up from 100 km/h) on all of its cars.
*This story is an advertorial.