Nissan has silently added the Sunny CVT to is model lineup with a price tag of Rs. 8.49 lakhs (ex-showroom Delhi).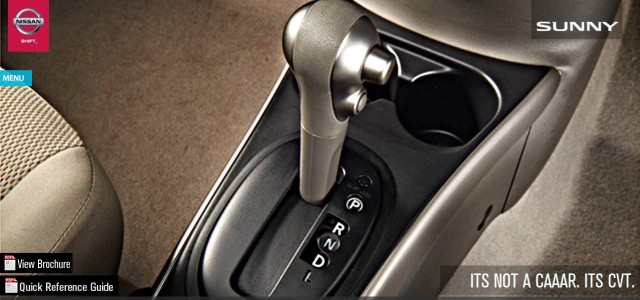 The company claims that the Xtronic CVT equipped Sunny is more fuel efficient than the manual variant. Available only on the mid-spec XL variant, the automatic sedan is powered by the 1.5 litre petrol engine. Interestingly, at 101 bhp it develops 2 bhp more than the manual variant.
The equipment list includes power windows, double DIN music system with Aux-in and steering mounted controls, and keyless entry and go. The CVT variant offers a fuel economy of 17.97 kmpl while the manual variant manages 16.95 kmpl. The CVT variant weighs 18 kg more than the equivalent manual variant.
The bookings for the Nissan Sunny CVT has already been started. The CVT gearbox not only improved the fuel economy, it also offers a stress free driving experience in congested traffic conditions.
The Nissan Sunny is also available with the venerable 1.5 litre DCi diesel engine but it makes do only with a 5-speed manual gearbox. The power output stands at 86 bhp.
The CVT gearbox first debuted in the Renault Scala, the badge engineered cousin of the Nissan Sunny. Offering the CVT in both the cars improves the advantages of economies of scale.