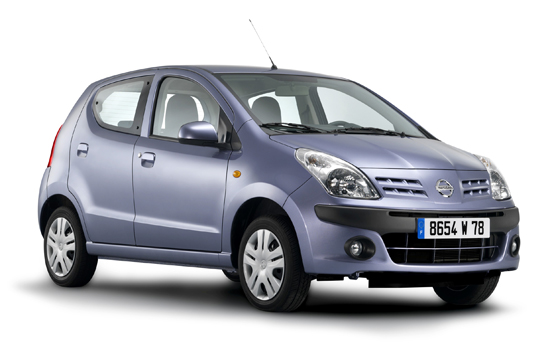 The satin was dropped, and the Nissan Pixo stood there, no where to hide. It's cousin, the A-Star (a.k.a. Alto) was launched hours back in the same environment and the PIXO should have felt a bit out of place. Let me explain why.
The PIXO is Nissan's small car which some refer to as the next-gen Micra. We really don't care about that. What we felt was the PIXO should have been unveiled right here, at the Delhi AutoExpo earlier this year. Why would you want to show off a car thousands of miles away from its birth place? The PIXO will be manufactured here in Chennai, South India, and just like the i10, it will be exported to various parts of Europe.
India has come to a stage where cars unveiled here, are looked at with respect and love. Take the case of the i10 or the Nano. In the midst of hundred other car launches, the PIXO failed to fall under the limelight. At least, not to an extent it would have desired.
The Pixo will come with a 1.0-liter petrol engine which develops 65 hp and returns a mileage of 61.4 mpg. CO2 emissions stand at a startling figure of 103 gram/km which means this will more or less be the most eco-friendly car you can buy.
Press Release-
Against a backdrop of record oil prices, fears of a global recession and demand for ever lower greenhouse gas emissions, buyers are looking for an inexpensive and fuel-efficient car with a low CO2 output. They need look no further. The new Nissan PIXO, a four-seater producing 103 g/km of CO2, will offer genuinely environmentally-conscious motoring at an accessible price.
"Motorists all over Europe are seeking a car with excellent fuel economy and low emissions but they believe they shouldn't have to pay a premium for that. PIXO delivers on all levels. It's the car to meet the needs of customers who are increasingly economically and environmentally conscious."
Carlos Tavares, Executive Vice President, Nissan Motor Limited
At a glance
Five doors, four seats
3.56 metres long, 2.36 metres wheelbase
1.0-litre three cylinder petrol engine, delivering…
* 65 PS
* 103 g/km CO2
* 4.6 l/100 kms (61.4 mpg)
Manual and auto options
Full complement of safety equipment
Built in India for Nissan by Suzuki
Entire Press Release and Gallery after Jump
Overview
With oil prices fluctuating in a volatile global market and governments worldwide agreeing to set ever lower targets for emissions from all sources, the arrival of the PIXO underlines Nissan's commitment to providing affordable, urban transport which is efficient in terms of consumption and emissions. Its arrival on the Nissan range complements the Micra and Note, giving the company a strong, diverse selection of compact, spacious and efficient cars which are well equipped for the reality of modern urban driving. And when it is launched in Europe, the PIXO will wear the newly announced Pure Drive badge, which will help car-buyers to identify the most efficient models in Nissan's range.
Thanks to exceptional fuel economy and with CO2 emissions that are among the lowest in comparison with its competitors, PIXO makes a strong case for itself.
And when the price position is taken into account, this combination becomes very compelling. It will compete head-to-head with popular small city-cars but at a price that will bring eco-friendly motoring to an even wider audience given its accessible price.
PIXO is a five-door, four-seater with a roomy interior and generous luggage space thanks to its efficient design and packaging.
It wants for little in terms of standard equipment, also. There are two versions of PIXO available: Visia and Acenta. Power steering, anti-lock brakes and dual front airbags are standard on every model while keyless entry, power front windows, split folding rear seats, side airbags and front fog lamps are standard on Acenta.
Options include manual air conditioning, electronic stability control and curtain airbags, while a four-speed automatic transmission is also available. And with the Nissan badge on its nose, PIXO benefits from the company's strong brand image, which is backed by a comprehensive three-year warranty.
But alongside these big car features, PIXO enjoys small car attributes. Thanks to its lively three cylinder 1.0-litre engine and lightweight construction, it produces just 103 g/km CO2 and delivers fuel economy of 4.6 l/100km (61.4 mpg) on the combined cycle. These figures will position PIXO among the most affordable eco-cars in the small city car category.
"There can be little doubt that our attitudes to the car are changing. Thanks to the spiralling cost of fuel we want better economy and we want to reduce our personal impact on the environment as much as possible. But at the same we are unwilling to sacrifice space, comfort and safety or forgo the trust we have in a brand such as Nissan," says Pierre Loing, Nissan's European Vice President of Product Planning.
"With PIXO, there need be no sacrifices. It has many of the attributes of a larger car but with low emissions and excellent economy all at an extremely competitive price."
PIXO in detail
The birth of PIXO represents a collaboration with Suzuki Motor Corporation, enabling Nissan to bring PIXO to market as quickly as possible.
Its arrival coincides with an ever-increasing demand for cleaner, greener cars as a result of the volatility of oil prices and, as a result, the global economy.
Built in state-of-the art facilities in Delhi, India, PIXO is a brand new four-seater competing in the fast growing A-segment. Unlike some of its immediate rivals, however, PIXO is far from a micro car. It has five doors to ease ingress and egress to and from the rear seats but remains sufficiently compact to be agile to be ideal for city driving.
PIXO is 3565 mm long, 1470 mm tall and 1600 mm wide. It has a wheelbase of 2360 mm. It weighs about 855 kg (depending on grade and specification), making it one of the lightest cars in its class, with resulting benefits in performance, fuel consumption and emissions.
The result offers ample interior space for four adults and their luggage. With the rear seats in place, load space is 129 litres (VDA).
Design
The PIXO's unique design elements include the front end styling, which features the Nissan family double-deck six slot grille either side of a centre U-shaped section housing the Nissan roundel. Either side of that is a pair of bold headlamps.
Following the lead set by Micra and NOTE, the top of the tall triangular-shaped headlamps are slightly raised so they can be easily seen from the driving seat to help the driver 'place' the car when parking. The light assemblies sit above a full width bumper bar, coloured black in contrast with the body colour. The bumper itself is located within a deep front spoiler incorporating an air intake.
Giving PIXO a visual dynamic edge, the beltline gently rises towards the rear of the car, where it wraps around the upswept rear side window. This is further accentuated by the lower swage line which links the extended wheel arches, underlining the car's wide footprint and long wheelbase.
The PIXO also has a distinctive downward sweep of the roofline towards the rear of the vehicle from its highest point just ahead of the B-Pillar. The large greenhouse helps outward visibility and ensures an airy interior.
At the rear, similar treatment to the front end sees a wide black-coloured bumper bar stretching the full width of the vehicle to give protection from bumps and scrapes. As with the front, one of the most striking styling features is the bold treatment of the light assemblies, helping to give PIXO a distinctive character. The entire bumper and lower valence section is unique to the Nissan version of the car.
The exterior story is completed by the split-spoke styling of the wheel covers on the standard 14 inch wheels, which are designed to make the wheels look like alloys… alloy wheels are available as an option, however.
Interior
With its roomy interior, PIXO is spacious, practical and comfortable. The instrument panel is comparatively simple in its layout, the two-tone grey/black treatment and modern styling match the air of sophistication of the car.
A single dial faces the driver and incorporates an easy-to-read conventional circular speedometer with digital read-outs for fuel level plus overall and trip mileages. The dashboard also incorporates a centre stack with integrated single DIN audio system and heating and ventilation (HVAC) controls. Fresh air vents can be found in the centre of the dash with two further vents at either end. When fitted, the air conditioning system comes with a pollen filter.
There's ample storage space, with an upper box ahead of the front seat passenger and a box and cup holder in the centre of the console ahead of the gear lever. There is a further practical cubbyhole – this time illuminated – in the middle of the stack above the HVAC controls.
Great attention has been paid to ensuring passenger comfort. The fabric-covered seats are wider than usually to be found in this class of car, and benefit from thicker seat cushions. The front seats have long slide bars making them easier to adjust and are covered with a subtle contrasting stripe pattern for their centre sections.
Grades and equipment
There will be two versions of PIXO available when sales start in the second quarter of 2009: Visia and Acenta. The entry grade Visia includes power steering, anti-lock brakes, driver and passenger airbags, ISOFIX child seat fixings and a rear wiper. Other standard features include a rear parcel shelf, tilt adjustable steering column and no fewer than four cup holders – two in the front and two in the rear.
Move up to Acenta grade and standard equipment also encompasses keyless entry with power locking, an MP3 compatible CD player, electric front windows, split folding rear seats, front fog lamps, and body coloured door handles and mirrors. The safety story is enhanced further by the inclusion of side airbags as standard.
Principal options include electronic stability control (ESP), manual air conditioning, curtain airbags, alloy wheels and metallic or pearlescent paint.
Drivetrain
There is just one engine option available for PIXO. It's powered by a compact 1.0-litre three-cylinder all-alloy 12-valve petrol unit developing 65 PS (48 kW) at 6,000rpm and 90 Nm at 4,000rpm.
More significant, however, are the exceptionally low fuel consumption and emissions figures. The five-speed manual version uses 4.6 l/100km on the combined cycle, 4.3 l/100km on the extra urban cycle and only 5.1 l/100km on the urban cycle. Equivalent figures for urban, extra urban and combined cycles are 55.4, 65.7 and 61.4 mpg. CO2 emissions are just 103 g/km.
Unusually in this class, PIXO is also available with a full four-speed automatic, reinforcing its suitability as a town car that's perfectly capable of longer journeys when needed.
Chassis layout is a combination of tried and trusted components that provide stable handling with good ride comfort characteristics, especially when linked with a long wheelbase and 14 inch wheels. The front suspension uses MacPherson strut while at the rear, a three link isolated trailing link arrangement can be found.
Power assisted rack and pinion steering is standard, while the braking system has front discs and rear drums with the latest anti-lock software. Electronic stability control (ESP) is an option.
Market
PIXO marks Nissan's first venture into the A-segment of the European market and its arrival coincides with a huge increase in sales. In France, for example, sales of A-segment cars sales jumped 36 per cent from January to June this year compared to the same period in 2007. Overall, the European market saw a rise of 30 per cent between 2005 and 2007. This was partly due to new models stimulating showroom traffic, but also can be linked to rising fuel prices and environmental concerns.
More than half of the cars sold in the segment produce between 60-70 PS. PIXO develops 65 PS, right in the heartland of the sector. And while the vast majority of the sales are of cars with manual transmission, that is more down to the lack of availability of an automatic than a lack of demand. With the option of a 'real' torque converter automatic, PIXO is perfectly placed to dominate a potentially lucrative niche within the sector. At launch, PIXO is expected to be Europe's most affordable automatic.
More importantly, however, are PIXO's low CO2 emissions. At just 103 g/km, PIXO is currently among the most efficient petrol-powered cars in the segment.
"PIXO makes a strong environmental statement but also represents an affordable, city car. It will play a key role as part of a wider Nissan strategy to offer a broad selection of cars which are fuel efficient and low emitters," says Simon Thomas, Nissan's Senior Vice President for European Sales and Marketing.