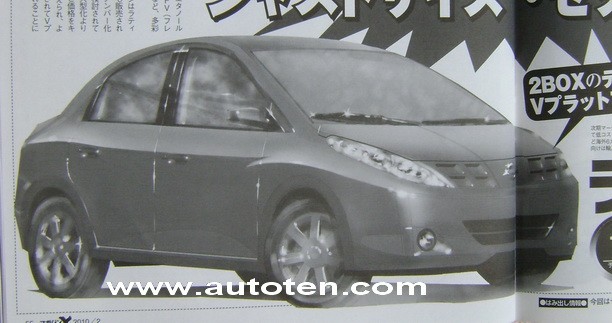 During the Nissan Micra media drive that concluded yesterday afternoon, officials in Nissan India revealed that the sedan based on the V-Platform (which the Micra' based on) will be launched in India in 2011.
The powertrain options are being discussed and decisions will soon be made. The vehicle will share a large percentage of its components with the hatchback but to the naked eye, both the cars will be miles apart.
Nissan will install the V-Platform sedan with different body panels much like the Honda City-Jazz connection. The vehicle is expected to have longer wheelbase and a big boot. It has been said that in Thailand, the V-Platform sedan will come with the hatchback's 1.2-liter 3-cylinder engine adjusted for gain in weight, but we expect Nissan to bring in a 4-cylinder petrol engine.
Nissan will use a re-worked 1.5-liter diesel engine from the Logan for the diesel model. Could the vehicle look like a scaled down version of the Teana?