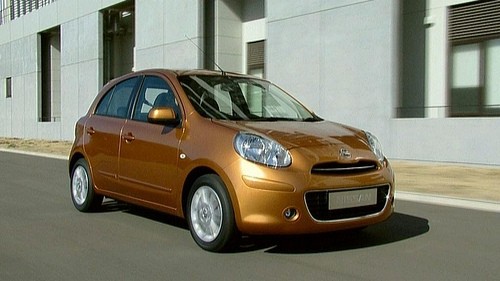 The base variant Nissan Micra should be priced around 4.25 lakh rupees in India
We don't know if the prices of the all-new Nissan Micra in Thailand holds any relevance to the Indian scene, but we can take a clue from the announcement - Nissan isn't going for the Figo territory with its new hatch.
We have learnt that the Thai Micra has airbags, ABS, EBD and Brake Assist as standard features. This indicates the pricing would begin somewhere close to 4.25 lakh rupees at most in India with all these features chopped off in the base variant.
Nissan has also made it clear that it isn't willing to get into a price war with the Micra in India. Anyways coming back to the Micra launch.
With a 4.5m turning radius, the Micra's is just 0.5m short of the legendary Tata Nano. That is quite a remarkable achievement for a car that is 3.72m long.
The Micra comes in a choice of 6 colours – Brilliant Silver, Black Star, Crystal Lilac, Spring green, Sunlight orange and White pearl in Thailand. At launch 4 variants with 2 option packs are offered.
You can buy the Micra in both manual and automatic transmission forms. Only the 1.2-liter 3-cylinder engine is offered at launch which makes 79ps, while torque output is 108Nm.
Press Release
Press Release

The all new Nissan March is for people who love simplicity, designed as a reliable, stylish and accessible compact car, the Nissan March is engineered for great handling and agility performance, equipped with a newly developed powertrain 1.2 liter. 3-cylinder engine (HR12DE) with 5 M/T and all new CVT based on the newly developed V-platform.

Design

"Its face had to look stylish and have an air of sophistication to it" comments Mr. Makoto Yamane, Associate Product Chief Designer. A unique design feature of this car — its double-layer integrated grille — meets these requirements. But the car's classic shape was also crucial. That's why it also employs a stylized version of the distinctive arched side window line, something that is central to the March's heritage, identity and appeal

Retaining its compact dimensions, the new car is slightly longer and marginally lower, while its longer wheelbase enables a 'wheels-at-each-corner' stance, the main reason behind the March's roomier interior. The boomerang-shaped grooves on the roof have a clearly defined purpose too, continues Yamane. Aiming to create the same sense of exterior style inside the car, Nissan has employed a 'connected cocoon' design featuring a dashboard design which takes on a 'twin bubble' theme. This refers to the circular instrumentation binnacle and the similarly shaped glove box compartment on the passenger side.

All-new 1.2-litre Engine and XTRONIC CVT

The all new Nissan March is powered by an all-new HR12DE 1.2-litre, 3-cylinder petrol engine. Inheriting its DNA from the HR16 4-cylinder engine powering the Tiida, Note, and Qashqai, the new engine employs continuously valve-timing control (CVTC). Power is rated at 59kW (79ps, while torque output is 108Nm. At only 120g/km, CO2 emissions for this version are world-class.

The Nissan March comes with either a 5-speed manual gearbox or Nissan's all-new XTRONIC Continuously Variable Transmission (XTRONIC CVT). The wide gear coverage enables the 1.2-litre engine to achieve economy and brisk acceleration.

Nissan engineers developed ride and handling characteristics which combine agility, refinement and poise. Mounted onto Nissan's new signature V-platform, the suspension has been designed to be both compact, minimizing intrusion at the rear for maximum trunk space, but not at the expense of the car's on-road dynamics. Particular attention has been paid to bump absorption, meaning that the March will ride serenely over challenging road surfaces, not suffer from wallow or float, and cruise effortlessly at highway speeds.

Comfort, function and equipment

In contrast to its high speed capability, the car also has superb visibility and a class-topping turning radius of 4.5m and several new technologies that assist with minimizing C02 emissions and mileage while at the same time making parking easier.

The new March is available with some key technological innovations which are designed to simplify day-to-day life for its owners. It also offers special option of Intelligent Key + Immobilizer, a push button start-stop system, automatic foldable mirror, and reverse sensor (4 points) in addition to a intelligent multi-display meter which supplies drivers with real time fuel economy information, cruising range and outside temperature.

Safety

The incorporation of the V-platform is one major factor contributing to the car's improved impact safety. The car is designed to absorb the forces of a frontal impact, thanks to the sophisticated crumple zones, while maintaining cabin integrity due to its highly reinforced body shell. We achieved European standard of safety under UNECE 94 and 95 (front and lateral impact). In Thailand, the March will be fitted with standard safety equipment such as SRS airbags, ABS, EBD, and BA

The introduction and sales of the Nissan March will come in 4 standard grades and 2 options grades and will be offered in 6 colors.

Colors

1.2S : K23 – Brilliant Silver; G42 – Black Star, KAS – Crystal Lilac

1.2E (MT/CVT), 1.2EL, 1.2V, 1.2VL : K23 – Brilliant Silver, G42 – Black Star, KAS – Crystal Lilac, JAD – Spring green, A55 – Sunlight orange, QX1 – White pearl

Price list – NISSAN MARCH (K13)

MSRP Include A/C with VAT

1.2 S MT 375,000

1.2 E MT 425,000

1.2 E CVT 459,000

1.2 EL CVT 489,000

1.2 V CVT 507,000

1.2 VL CVT 537,000
New Nissan Micra Image Slideshow
unable to view the slideshow? visit the New Nissan Micra Image Gallery directly