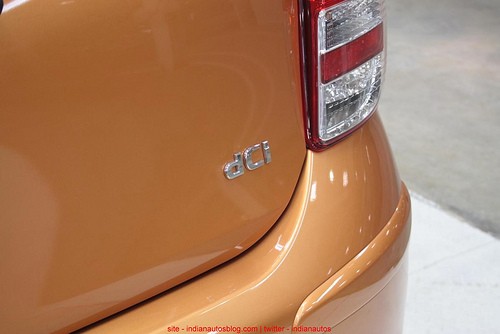 Activities at Nissan's dealer network across the country is buzzing with activity as hundreds of people lined up outside dealer showrooms to check out the Micra.
Indian Autos Blog visited Sherif Nissan today and fiddled around the sparkling blue Micra which looked a little out of place as it was parked next to a yacht-like Teana and mountain-like X-Trail.
The officials at the dealership had all the answers to beamed questions, including speculative prices and launch dates.
The dealership official mentioned Nissan had set the tentative launch date as the 14th of July. Prices in Chennai could start at 3.8 lakh rupees and go up to 5.5 lakh (ex-showroom) for the fully loaded model. Nissan will hand out test drives from the 14th of July, if the car is launched on that day.
The showroom staff also had knowledge on the future plans for the Micra. He said initially there would be only a petrol model and by December, the diesel model could be available. A 1.4-liter CRDI engine could be the powertrain in contention. An automatic transmission model is also in the pipeline lined up possibly for 2011.
When Indian Autos Blog contacted Nissan, the company spokesperson echoed what the dealership official had to say -
We have a plan for diesel. We will launch it subsequently.
When we asked Nissan's spokesperson about the launch date, this is what he had to say -
We will launch the Micra in July. Further details will be communicated shortly.
We don't know how many cars Nissan wants to sell in India initially, but we find the Micra a cute, yet solid hatchback that will attract plenty of buyers, especially in the metros.