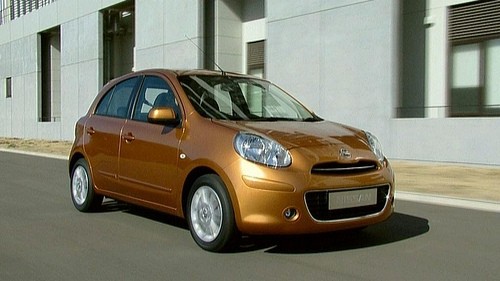 The new Nissan Micra supermini due to go on sale in the Europe in November, 2010 is unlikely to score the 'esteemed' 5-star Euro NCAP rating. The 2011 Nissan Micra would most probably settle with a 4-star rating.
The reason for the Nissan Micra's inability to get the 5th star is because of the revised crash safety scoring system by Euro NCAP for 2010. As per the new norms only a vehicle with stability control as standard on most of its versions would get a Euro NCAP 5.
The latest Nissan Micra has been designed mostly for the developing markets unlike its predecessor, so the focus of the new Micra is more on simplicity, functionality and low production and running costs.
Vincent Cobee, Project Director for the new Nissan Micra -
We want to be competitive on safety, but to achieve the new five-star rating becomes outrageous. We are making no definitive statement on the rating we expect, but let us say that three stars would not put us in the right competitive set.
Does the fifth star really matter for the Indians? No, not at all. Even if Nissan goes all the way to get the stability control on the Micras and get a Euro NCAP 5-star, the Indian version would still come with the basic safety features- just two front airbags and ABS (that too only in the end version), while side curtain airbags, stability control would be ignored for the Indian market.
So a Euro NCAP 5-star on the European versions of a car doesn't really help improve the safety standards of the same car sold in India.
Lets take the 'uber-cool' Hyundai i20 for example. Hyundai is aggressively marketing as a Euro NCAP 5-star rated car and many i20s have a 'Euro NCAP 5-star' sticker on the rear windscreen. But the specs of the car sold here in India would qualify only for a 4-star rating because there is no stability control and side curtain airbags are available only in the top-end variant. So the Indian i20 isn't a 'Euro NCAP 5-star rated' car.
It is time for the Indian consumers to wake up and question companies' shrewd marketing strategies. Or at least people should not believe the lies they are selling in the name of marketing.
Source - What Car