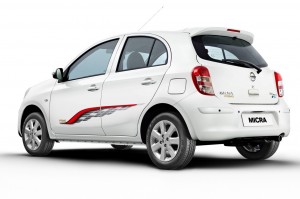 Nissan is silently working on a stripped down version of the Nissan Micra codenamed G02A which is most likely to be called as the 'Micra Active'.
Nissan Micra enjoyed a very impressive response when it arrived in India as Nissan's first mass market product and the Japanese car maker slipped the popular 1.5 K9K diesel engine under the bonnet to give the sales volumes a firm push.
However the Micra couldn't sustain the initial momentum and the sales started declining month after month. Since the launch of the Pulse, sales of the Micra has sagged.
People think that the Micra's price tag is on the steeper side. Moreover the car is widely considered as girlish and that made many male buyers to look elsewhere.
While Nissan must be working on a facelift for the hatchback to remove its overly feminine characteristics, they are also simultaneously working on a low cost version of the current car, according to our sources. Right now, the diesel variant is available only in the top two trim levels, the XV and the XV Premium.
According to our sources, the stripped down variant is likely to be called as the Micra Active. The majority of the cost saving appears to have come from the reduction of the NVH package which would marginally increase the cabin noise but its a compromise one should live with if he or she wants a significant price reduction.
In addition, Nissan has localized the entire steering system which gives another advantage in terms of pricing. The Micra Active will sacrifice a few more features (could mean that the driver side airbag will disappear from lower variants) but will continue to offer the all important 1.5 K9K diesel engine which is the best feature of this car.
Removing features from a car not only reduces the cost but also brings down the weight. Improved fuel economy comes as an advantageous byproduct during such an operation.
Although Nissan hasn't announced anything about a stripped-down Micra, we expect the car to be in showrooms somewhere in the first half of 2013.
[Image - Nissan Micra Primo special edition, used for the purpose of illustration]