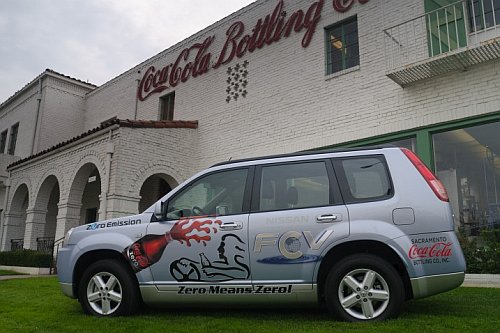 The Nissan X-Trail FCV is operated by Coca Cola Bottling company as an event vehicle
In the US, the trend among manufacturers who are into experimenting with fuel cell vehicles is to provide hollywood celebrities with these highly advanced cars and gain publicity in doing so.
This Japanese manufacturer however has other plans. It has leased the Nissan X-Trail FCV (Fuel cell vehicle) to Coca Cola as an event vehicle.
The creative team in Nissan stickered the car and haven't they done a great job to get the message out - The Nissan X-Trail has a Coca-Cola Zero bottle, a silhouette of a driver drinking Coke and the slogan "Zero Means Zero!"
How colorful!
Eric Nozier, Nissan North America vice president of corporate planning -
Sacramento already has the beginning of a hydrogen infrastructure in place, and Sacramento Coca-Cola has a track record of utilizing low-emissions cars, so the two companies share a green philosophy
While companies like Honda have sent out vehicles to powerful celebrities who already have other cars to drive, it is a wise move by Nissan to lend its vehicle to somebody who will put it to good use.
Source - Inside Line