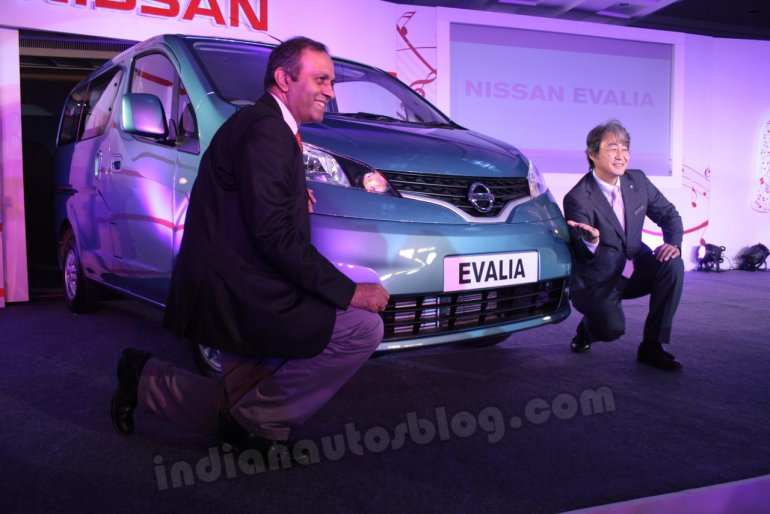 Mr. Sanjay. G, head of Marketing at Nissan India spoke to Indian Autos Blog during the Nissan Evalia's launch, here in Chennai yesterday. Here's what he told us -
Q: What is the status of Datsun brand?
A: Datsun will be globally launched in 2014 in India, Indonesia and Russia, but first in India.
Q: How many cars can we expect from Datsun?
A: Initially in first year, there will be two models and will be followed by one more model. That's the plan as of now.
Q: The low cost car codenamed K2, will that be a Nissan or a Datsun?
A: That will be a Datsun brand..that will come in 2014.
Q: Nissan has announced Sylphy for over 100 countries and is just launched in China. Now that Sunny is well accepted, do you want to extend that success into D segment?
A: We are working on it. As the market matures, as we get a right opportunity we will definitely look at it..we need the right kind of pricing and diesel is very important for that segment. Some of them have failed because there's no diesel in their car, all those factors have to be studied.
Q: What about the mini SUV segment? We have one Nissan vehicle globally, the Juke. Do you think it can be rationalized for India?
A: No, currently Juke is for Europe and U.S because it has a different design. So we are looking at a SUV, the research is going on and in appropriate time the SUV will also come..as we told we will have 10 models by FY16 including Datsun. So there will be portfolio of products in each segment based on the market requirements and of course based on the development time.
Q: Do you think Nissan India will be okay with badge engineering?
A: The badge engineering is only (for) two cars.  Globally also it is only Micra and Sunny, nothing else is badge engineered.
Q: Do you think rebadging the Duster is the gateway for Nissan to India's SUV segment?
A: Not really. There might be changes also, we are looking at it because Nissan has a wide range of SUV portfolio..India has a peculiar requirements...5 seater, 7 seater and all those (factors) have to be looked into. Based on that, they (Nissan globally) have a wide portfolio and we can look into it.
Q: We had a chance to drive the Leaf late last year. It was very silent and smooth. The government has just announced a Rs. 23,000 crore program for EVs. Has this encouraged plans for Leaf in India?
A: Not right now, because globally its produced in a mass scale and it'll take time before it comes to India because the past is a factor. India will not buy..it's not like US or Japan where people will buy it for the lot of incentives...its too early for EVs to come to India because there are no facilities. Even CNG is taking time, you need to wait for four hours in Delhi for CNG filling...unless infrastructure comes in for EVs and CNG it's not possible and it's not advisable (to bring the Leaf). We can import something and do it for the sake of creating the brand image but it does not work like that.
Q: The Renault Scala offers automatic gearbox choice in the next few months, and the Sunny is exported with an AT. Will the automatic Sunny be launched?
A: Not immediately but we are working on it..the features are different for the export markets and it has to be re-engineered for Indian conditions.