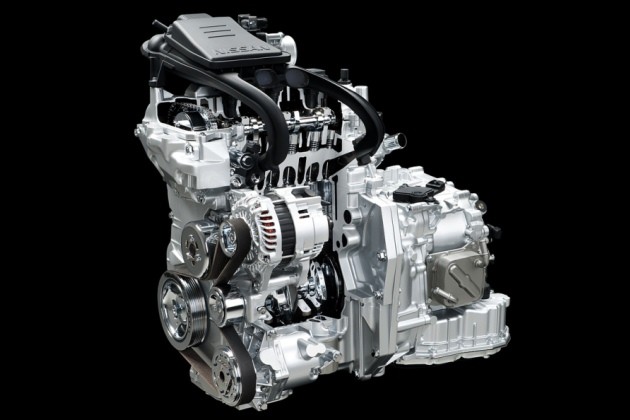 Nissan is presenting answers to the toughest questions in the form of electric vehicles, but knows the transition from combustion models to electric powertrains can never happen overnight. It needs years, decades if I may, for consumers to shift from the everyday automobile to an electric vehicle.
Nissan is focusing sharply on cutting emissions and boosting fuel efficiency of its vehicles. It has issued a press release listing a number of innovations to achieve that task. As part of that list, Nissan talks about the 1.2-liter 3-cylinder petrol engine (HR12DE) that features on the Nissan Micra hatchback. It also speaks about the add-ons this engine will receive and the automatic transmission it will be coupled to.
image - Nissan Micra 1.2-liter 3-cylinder petrol engine
Press Release
Nissan Announces Fuel-Saving Technologies Scheduled to be Launched in FY2010

- Drivetrain Advances Focus on Improved Engine and Transmission Efficiencies -

YOKOHAMA (July 6, 2010) -Nissan Motor Co., Ltd. today announced a range of advanced, fuel-saving technologies that will be introduced on new models to be launched in fiscal year 2010. The technologies are the culmination of the company's research and development efforts based on the Nissan Green Program 2010 (NGP 2010) – Nissan's mid-term environmental action plan that includes initiatives to reduce carbon dioxide emissions in various fields within the scope of corporate activities.

"Nissan is continuously studying ways to reach the ultimate efficiency of its powertrains for further CO2 emission reduction. As a result of that, in fiscal 2010, Nissan will introduce a series of innovative technologies on its 3 and 4-cylinder gasoline engines as well as a new high-efficient hybrid system", said Shuichi Nishimura, Corporate Vice President, Powertrain Engineering Division.

Nissan is implementing its zero-emission vision through a holistic approach based on two key pillars, ZERO EMISSION and PURE DRIVE, which provides consumers a comprehensive range of eco-technologies from which to choose. While ZERO EMISSION is the ultimate goal, the company is committed to ongoing innovation in technologies that increase efficiency and reduce emissions. As a result, Nissan offers a comprehensive suite of automotive technologies, including CVT, Idling Stop, HEV, Clean Diesel, capable of achieving the best-in-class*1 fuel economy and CO2 emissions.

In Japan, the first PURE DRIVE vehicle, the New March, will be launched this month equipped with idling stop technology achieving a class leading 26km/L fuel economy, followed by the Clean Diesel X-TRAIL with automatic transmission and the Fuga Hybrid luxury sedan.

"The adoption of different types of low-emission technologies is a great solution as we can attend different consumer needs. PURE DRIVE vehicles will offer customers a wider selection of models fitting both their financial and environmental needs" said Takao Katagiri, SVP for Marketing & Sales in Japan.

Following are details of each technology:

1. Newly Developed Nissan March Compact Car Powertrain

Among many attributes, the all-new Nissan March, which launches this month in Japan, achieves fuel consumption of 26km/liter – the best in its class. Helping achieve this figure is Nissan's newly developed compact car powertrain, which is anchored by a new 3-cylinder engine and next-generation XTRONIC CVT (Continuously Variable Transmission).

HR12DE engine

Developed in pursuit of lighter weight and a smaller size than previous engines in the compact car class, the new 3-cylinder 1.2-liter HR12DE engine requires fewer moving parts compared to the more commonly used 4-cylinder engines. By applying bore circularity machining to the cylinder block, friction has been reduced by 20% (compared with conventional 4-cylinder engines). Moreover, improved NV (noise vibration) performance – at a level equivalent to that of a 4-cylinder engine – has been achieved by adjusting the weight balance of the engine's rotary shaft.

The new XTRONIC CVT utilizes a one-piece structure equipped with a sub-planetary gear. Its compact, lightweight design is 10% smaller and 13% lighter than previous CVT designs, while also achieving a 30% friction reduction for powerful acceleration performance, quiet operation and improved fuel economy. Its gear ratio of 7.3 (versus a conventional CVT's 6.0) is the world's largest among automatic transmissions equipped passenger cars.

The new XTRONIC CVT

A new Idling Stop system has also been adopted and includes an internal lock function using the sub-planetary gear. The engine can be restarted on a sloping road2 without sliding backwards. And, by accurately measuring the crankshaft position during engine shutdown, the engine restart time is shortened. During everyday driving, the idling stop function works so smoothly that the driver will hardly be aware of it.

2. Clean Diesel X-TRAIL with Automatic Transmission – Compliant with one of the World's Most Stringent Emission Standards

The automatic transmission X-TRAIL equipped with a clean diesel engine (M9R) will be launched this month in Japan. The vehicle will be compliant with the country's post-new long-term regulations, the most stringent emission standards in the world.

M9R engine

Along with the use of highly precise consolidated engine control, the AT Clean Diesel X-TRAIL utilizes a new "highly dispersive lean NOx trap (LNT) catalyst", which is being put to practical use for the first time in the world. The "highly dispersive LNT catalyst" uses noble metal particles, such as platinum, microparticulated to approximately 40% and arranged effectively. This innovation address the problem of efficiency degradation caused by decreased surface area associated with noble metal aggregation experienced in conventional catalysts. As a result, a reduction in noble metals and stable exhaust emission control have become possible, enabling the use of a clean diesel engine compatible with the post-new long-term regulations in automatic transmission equipped cars. The catalytic device will be manufactured at Nissan's Yokohama Plant.

3. High-Efficiency Hybrid System

Nissan has developed a unique hybrid system, targeted to be the most efficient 1-motor, 2-clutch parallel full hybrid system. It utilizes an electronically controlled clutch positioned between the engine, motor and drive wheels.

The Hybrid system

The hybrid system allows for the elimination of friction by completely disconnecting the engine from the system during motor driving or deceleration. It is highly energy-efficient because the battery is charged efficiently by the engine while driving, while the rotational energy of the wheels is used for energy regeneration. When the clutch is engaged, the engine, motor and wheels are directly connected, so the system also achieves responsive acceleration for sporty driving. In addition, accurate control allows the engine to be stopped more frequently. During test demonstrations conducted in city conditions, it was found that the engine was in a halt condition for almost 50% of the driving time.
The motor is powered by a laminated lithium-ion battery featuring the same structure as the one used on LEAF, Nissan's electric vehicle. The powerful lithium-ion batteries are used to deliver high-response linear acceleration and fuel consumption equivalent to that of compact cars. The batteries are supplied by Automotive Energy Supply Corporation (AESC), a subsidiary jointly established by Nissan and NEC Corp. of Japan.

The hybrid system is scheduled to be available on the Infiniti M in late 2010.

4. The World's First Mass-Produced 1.5-liter Engine with Dual Injectors
Another advanced fuel-efficient technology to be launched in FY2010 is Nissan's new 1.5-liter engine (HR15DE), the world's first mass-produced 1.5-liter engine with dual injectors (2 compact injectors per each cylinder).

HR15DE engine

The dual injectors stabilize combustion by reducing the size of the particles sprayed in the form of a mist by approximately 60%. Improved thermal efficiency and reduced inhalation resistance have been achieved by combining the injectors with Continuously Variable valve Timing Control (CVTC), which continuously changes the opening-closing timing of the inlet and exhaust valves. As a result, fuel economy has been improved by approximately 4% compared to Nissan's conventional engines in the same class. In addition, more efficient burning helps to control the hydrocarbons in the exhaust gas and reduces the amount of noble metals needed for exhaust purification. The engine is mounted on the Nissan JUKE, which was launched in Japan in June 2010.

5. A Newly Developed 1.6-liter Direct Injection Gasoline Turbocharged Engine

Based on the downsizing concept, a new 1.6-liter 4-cylinder MR16DDT engine with Direct Injection Gasoline technology has been developed – combining a turbocharger with a low displacement engine to achieve both higher power output and lower fuel consumption. It also adopts inlet and exhaustion CVTC and hydrogen-free DLC(Diamond Like Carbon) coating, as well as other new technologies such as the new friction-reduced valve spring.

MR16DDT engine

The MR16DDT engine achieves power equivalent to that of a 2.5-liter engine, along with the fuel efficiency equivalent to a 1.8-liter engine. The new engine will be available in the Nissan JUKE in the second half of FY2010.
Nissan continues promoting the "Nissan Green Program 2010? by introducing effective technologies, products and services into the market.
1 1.0-1.5L Class not including Hybrid vehicles.(as of July 2010 based on current Nissan studies)
2 With an angle of 6% or less.