Nissan will present a concept car at Auto Shanghai 2013 which begins on the 20th of April dubbed Friend-ME. Created by Chinese designers in Beijing, the concept is themed around "Four Seats, One Mind Connectivity."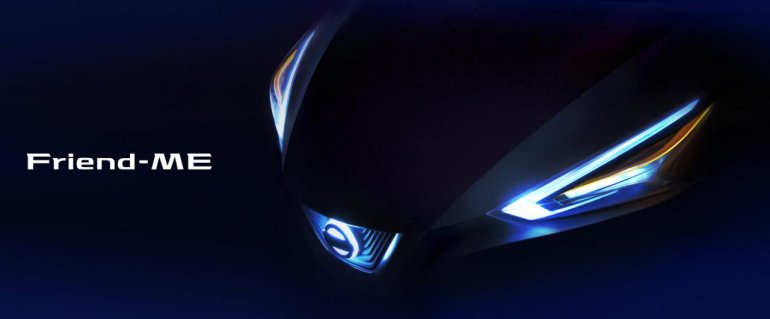 The cabin, which is yet to be revealed, features a unique center console that allows "equal information sharing" among the occupants.
The design study is aimed at the young generation of China which classifies a mobile phone, digital tablet or internet connectivity as essentials to everyday life. China is one of the fastest growing markets for automobiles in the world, and this penchant towards digital devices has to be acknowledged by car makers on its product offerings to stay on the same page as its customers.
The teaser image shows headlights that could fit seamlessly on a future Nissan Leaf, while the grille wears a cool blue lighting effect. The exterior of the concept may drop hints about Nissan's future design strategy.
Nissan hasn't revealed anything more on this concept yet but has announced that over 20 models will be displayed at the booth. Together with its local JV partner Dongfeng, Nissan will showcase cars such as the new GT-R, Quest and the recently launched Teana.
A special 'Teana technology corner' would have all the details about the sedan highlighting everything from its driving performance to comfort and safety.
Nissan is a regular with concept cars, mainly pivoting around future crossovers. At the North American auto show this year, Nissan showcased the Resonance Concept, which could act as the foundation for the next Murano. This was just weeks after it put on display the 'Extrem' concept in Sao Paulo, previewing a smaller crossover.