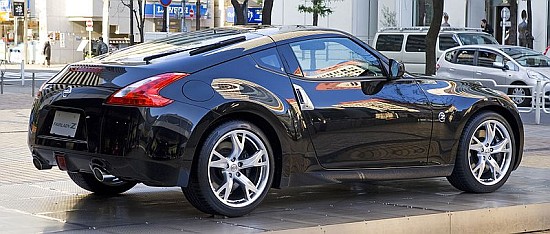 The Nissan 370Z will be a CBU. That necessarily doesn't matter to the rich buyer!
Nissan is all set to launch the sporty 370Z in India on the 20th of January. The Nissan 370Z will be most expensive Nissan in India, and will retain that tag for a very long time to come.
We believe Nissan would not have numbers in their mind for the 370Z. The primary motive is brand building, and that the 370Z with its humongous engine and razor sharp looks will certainly do.
The 370Z uses a 3,696 cc V6 engine that outputs 336 PS@7000rpm and 365 N·m@5200. That's more torque than many of the SUVs in India can manage.
Known as the Fairlady Z in the Japanese market, the 370Z filters power via a 7-speed automatic with paddle shifters or 6-speed manual transmission. Despite aluminum door panels, hood and hatch, the 370Z weighs well over 3000lbs, so forget the word fuel economy altogether.
IAB will be present at the unveiling ceremony to bring you all possible images and information of Nissan's first sports car in India.
Nissan 370Z Image Gallery
[nggallery id=7]