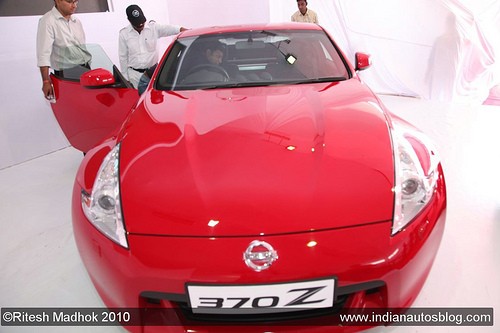 'The Nissan 370Z.' That's the best introduction.
We have attended car launches and umpteen number of media events that introduce automobiles in all kinds of ways. But the manner in which the Nissan 370Z was launched, speeding across the runway and settling down in an Aircraft hanger was the best thing we've ever seen.
Nissan launched its flagship model, the legendary 370Z at the Pawan Hans Flying Club at Mumbai at a very unique function. The driver during this special occasion was Narain Karthikeyan, India's first and only F1 driver, who unveiled the 370Z from a running trailer and followed it up with a few drifts to show the media what the 370Z was really capable of.
Mr Kiminobu Tokuyama, MD and CEO Nissan India, during the occasion said that Nissan would be getting three more models from Japan for the Indian Market and also confirmed that the Micra Sedan would follow the Micra Hatch. Priced at 53.50 Lakh (Ex showroom Delhi) for the 6 speed M/T with Synchro Rev Match, and at Rs.54.50 lakh for the 7-speed Auto, the 370Z surely enjoys the price advantage over its rivals.
Nissan 370Z India Launch Image Slideshow

can't see the slideshow above? visit the Nissan 370Z India Launch Image Gallery to view the Images
Press Release
NISSAN INTRODUCES 370Z COUPE IN INDIA

*An iconic sports car that embodies stunning design, class leading power and sheer performance

India, Mumbai, Jan 20, 2010: Nissan Motor India Private Ltd (NMIPL) as part of its growth strategy to introduce nine models in India by 2012 has today launched its widely acclaimed and iconic sports car –Nissan 370Z in India. The Nissan 370Z enables the discerning performance car enthusiasts in the country to live fast with its breath-taking performance, cutting edge technology & seductive design and at a very attractive price.

Mr. Kiminobu Tokuyama, Managing Director & CEO, Nissan Motor India Private Ltd said, "These are exciting times for all of us at Nissan and in our effort to provide the Indian customers with an experience of our full range of products, we are delighted to launch our very popular and iconic sports car -370Z in India. The 370Z has been conceived as an "Everyday Sports Car," bringing to life the sweet spot of performance, style and value, which symbolizes the DNA of Nissan cars. It's an authentic sports car that you don't have to make sacrifices to own – or drive everyday. We believe that the 370Z will create an aspirational value for Nissan brand in the country as we gear up for the launch of our first made in India car in 2010."

Mr. Abhijit Pandit, VP –Operations, Hover Automotive India Ltd, the strategic alliance partners for sales, marketing for Nissan in India says, "We are happy to launch the Nissan 370Z in India today. The luxury car market in India has registered a fair amount of growth in the last few years and is growing at a significant rate every year. The emphasis has shifted from pure price consideration and affordability to design, quality and pleasure. The 370Z provides passionate performance at an excellent value –just what sports car enthusiasts are looking for today."

The character of Nissan 370Z is immediately apparent in the crisp design, which is sportier, simple yet sophisticated.

Styling –Eye catching Beauty

Nissan 370Z, renowned worldwide for its superior performance and design has been designed to deliver optimum performance in any and every driving situation around the world. A perfect blend of sharp styling and timeless design creates a high-performance car that exemplifies the famous quality of "Z-ness", meaning a rear-wheel drive configuration and an emphasis on user-friendly considerations. Moreover, the design aims for an innovatively unique style with sensual, organic-like mechanisms reminiscent of the muscular physique of an athlete. The 370Z with its unique and beneficial features aims to provide people with an uplifting feeling, as they are able to spend an enjoyable time riding in the car, even if it is only for a short while.

Exterior Design – structural yet functional

The 370Z's dynamic styling offers dual benefits – a more aggressive appearance and a lighter, compact structure for enhanced performance. The design features of 370Z with is signature Z elements – the long nose, canopy cockpit, muscular fenders, vertical door handles is a more wheel-oriented, organic design with a sense of precision and agility.

The 370Z features a front aluminum sub frame, aluminum-alloy engine cradle, aluminum door panels, an all-aluminum hood, and an aluminum hatch. Rigidity to the Front body torsion is provided by an extensive body structure which includes a new front suspension cradle to reduce front body lateral bending, rear structural reinforcements, and an underbody "V-bar" to help reduce rear lateral bending. Additional enhancements include the use of a carbon fiber composite radiator housing and strengthening of the rear fender and hatch areas.

The 370Z's sleek silhouette is defined by its upswept quarter window design that is echoed by the dynamic upward curvature in the lower rocker panel and the sense of the taut sheet metal molding itself around the wheels and frame. Attention to detail and functionality is evident throughout the exterior design, including the addition of a flashing (repeater lamp) side marker lamp/emblem. The hood's deep character lines continue over the windshield into the new, cantilevered roof design. The intense broad-shouldered rear shape is highlighted by the integration of the boomerang taillights and wide, flared rear fenders.

Interiors – makes car and drive feel like one

The interior design of the 370Z enhances driving pleasure, no matter what the road or traffic conditions offer. Designed as an Everyday Sports Car, every aspect of these interiors addresses the needs of support and enhanced driver performance during spirited driving and offer high levels of comfort and utility for normal commuting and around-town activities.

The 370Z comes with a 2-seat layout built around a deeply scooped instrument panel with a full-length center console separating the driver and passenger's seat. In the rear is an open cargo area with enhanced storage and accessibility. The design focus incorporates a "layer concept," with an information layer, an operation layer and a holding layer.

The information layer provides enhanced visibility with easy access to all key data. The operation layer includes the steering wheel, shifter and switchgear. The holding layer includes the seats, knee pads and door trim support. The driver's seat is uniquely different from the passenger's seat, with lower seat cushion cut-outs on the sides where the thighs rest – allowing the driver to push on the pedals without the seat fighting them. The seat also features an improved frame that helps it to better hold the driver in place during cornering. It also offers a 0.4-inch lower hip point than the previous Z driver's seat. The door armrests have been designed to provide extra support when cornering and the kneepads are better integrated to help the driver maintain the proper position while cornering.

The 370Z is also equipped with other interior comfort and convenience features that includes Nissan Intelligent Key™ with Push Button Start, power windows with one-touch auto up/down feature, power door locks with auto-lock feature, a center console box with a new non-intrusive cover design, automatic climate control, rear window defroster with timer, two 12volt power outlets, four cup holders (two in door panels, two in center console), dual overhead map lights and a AM/FM/CD/AUX 8-speaker BOSE audio system with illuminated steering wheel-mounted controls..

Unmatched Driving Performance

Nissan 370Z is powered by a standard 333 PS and 363 Nm Torque, VQ37VHR 3.7 L DOHC (Double Overhead Camshaft) V6 engine with Variable Valve Event and Lift Control (VVEL) The award winning VQ series Nissan engine provides customers with an unprecedented balance of better response, better torque, better fuel efficiency and cleaner emissions. DOHC features makes the engine run cooler and more smoothly, quietly, and efficiently.

Power delivery to the rear wheels comes through a new 7-speed automatic transmission with paddle shifters or 6-speed manual transmission which features the world's first synchronized downshift rev-matching system or SynchroRev Match. The 370Z's new 7-speed automatic with Downshift Rev Matching (DRM) and Adaptive Shift Control (ASC) is designed to offer quick, manual-like shifting when operated in manual mode with a target time of 0.5 seconds between shifts. The new 7-speed's wide gear ratios offer improved fuel efficiency, while the Adaptive Shift Control is designed to adjust to the driver's driving style.

The Z's advanced braking system provides improved overall brake feel, better fade resistance and improved NVH. The standard 4wheel vented disc brake system includes Anti-Lock Braking System (ABS) with Electronic Brake force Distribution (EBD) and Brake Assist (BA).The variable ratio brake pedal, makes the pedal stroke feel more direct.

Safety – Proactive approach to safety issues

In the area of safety technology, Nissan pursues innovation as part of its "Safety Shield" concept, an advanced, proactive approach to safety issues based on the idea that cars should help protect people. The Nissan 370Z's long list of standard safety features includes the Nissan Advanced Air Bag System (AABS) with dual-stage supplemental front air bags with seat belt and occupant classification sensors; front seat-mounted side impact supplemental air bags; roof-mounted side-impact air bags; seat belts with pretensioners and load limiters, Active Head Restraints, Zone Body Construction with front and rear crumple zones, Nissan Vehicle Immobilizer System and Vehicle Security System.