Update - Camaro6 has posted the first official images of the 2016 Chevrolet Camaro convertible. Looking identical to the coupe but for the obvious retractable soft top, the only observable change is the repositioned antenna.
Debut confirmed for June 24.
General Motors has confirmed that the convertible version of the new generation Chevrolet Camaro will debut on July 24. The announcement was made through a teaser video which highlights the removable roof of the car.
[Can't see the video? Head to YouTube]
In the description, the company claims that the 2016 Chevrolet Camaro convertible will be the most innovative Camaro Convertible ever. We're not sure as to what feature(s) it is that makes the next Camaro convertible the "most innovative". Spyshots of the test mules have indicated that it will retain a soft-top rather than going in for a hard top, redesigned B-Pillars and a raked A-Pillar.
The convertible will borrow the engine lineup from the coupe, which includes a 2.0-liter turbocharged four-cylinder, a 3.6-liter V6 and finally a 6.2-liter V8. Paired to these engines are either a 6-speed manual transmission or a new 8-speed automatic with steering-mounted paddles.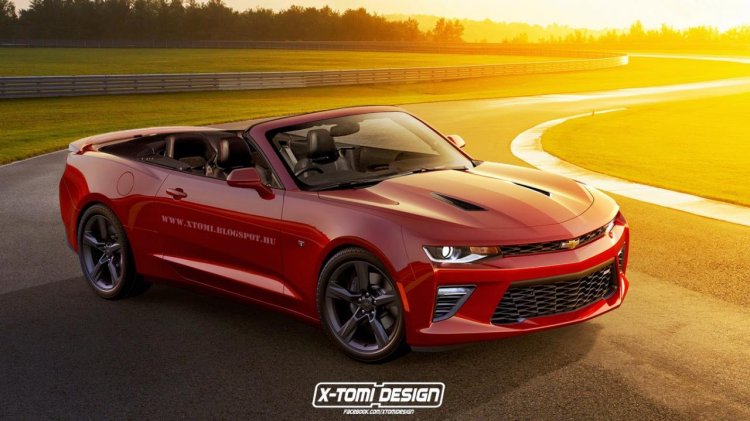 The 2016 Chevrolet Camaro coupe shed around 90 kg over its predecessor thanks to extensive use of aluminium, whilst not compromising on structural rigidity, which has been increased by 28 percent. According to GM, 70 percent of the components were developed specifically for the new Camaro.
Also Read: 2015 Chevrolet Enjoy (Facelift) interior snapped
It's unclear if GM is ever developing a RHD version of the Camaro in its lifetime, which if they do, opens up the possibility of launching in markets like India, UK and Australia. Given that its closest rival, the Ford Mustang, is expected to launch in the Indian market by the year end, and that GM India has displayed the Camaro at three consecutive Auto Expos, it wouldn't be incorrect to expect its Indian launch.
[Leaked images from Camaro6]