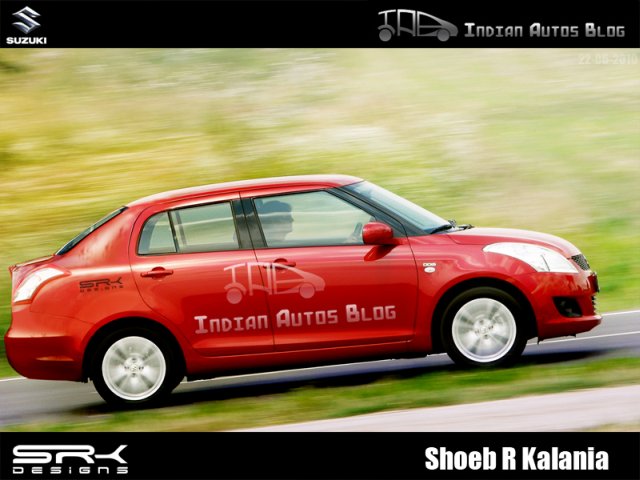 By Shakti Budhiraja
Note - Regular readers of IAB already know about the next generation Dzire through Shoeb's rendering and leaked information published here last year.
Witnessing the smartness of Indigo CS, Maruti Suzuki is mulling the option of reducing the next generation Dzire's length to under 4 meters. Not only will the car be compact, it will also shed a considerable 10% excise duties, instead of 22% for the current model.
The next generation Dzire, based on the new Swift platform will follow to India soon after the launch of the new Swift. The 84 bhp K Series petrol could come with VVT (Variable Valve Timing) for more low end grunt and the 75 bhp DDIS (Multi-jet from Fiat) diesel could be fitted with VGT (Variable Geometry Turbine) for extra 15 horses alongside already existing FGT (Fixed Geometry Turbo). The former can be reserved for the more expensive sedan body style, while the hatch can do with the FGT.
Queuing customers attribute their fancy to its frugal yet powerful engines, inspiring driving characteristics and Maruti badge. What remains to be seen is how Maruti Engineers would maintain comfort with decrease in length, as the new Swift platform is lengthier and the Dzire is often criticized for its cramped interiors.
Improvements in build quality, a sore point in recent Marutis, will be appreciated.
If Maruti achieves this with reduced price and better interiors, Dzire will turn desirous. Already a benchmark product, the Dzire can take the game further away from the competition.
As for international markets, the Dzire could be a bigger sedan, perhaps 4.2 meters in length with VW powertrains.
Source - Autocarindia.com