If you remember correctly IndianAutosBlog.com was the first website to bring you brief details on the new Jetta. Prior to this scoop, we revealed that the Indian Jetta, unlike the bigger Passat, will not come in BlueMotion avatar. Between these two posts, we aired a set of spy shots sent in by our reader Venkatesh Shreyas in Karnataka while the Jetta was in testing mode. It's fair to say that IAB has kept its readers abreast with developments surrounding the new Jetta.
Left - Jetta Trendline spec; Right - Jetta Highline specs
Today we have the full monty - the variants, powertrain specifications and equipment.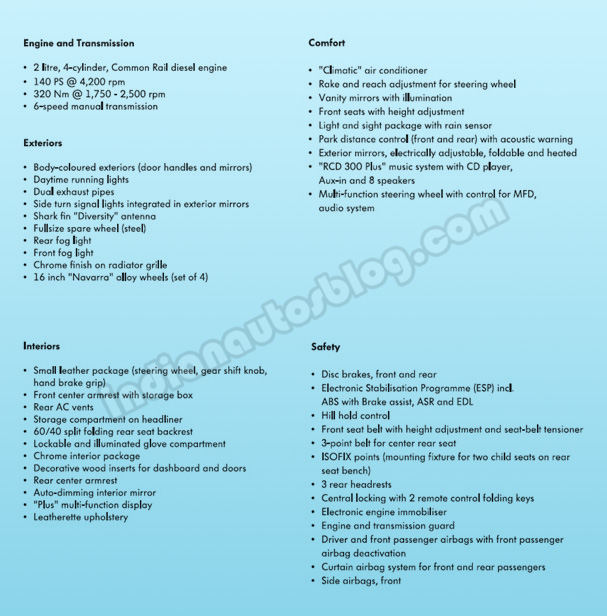 Above - Jetta Comfortline specs
The new Jetta launches on the 17th of this month in Mumbai which is when the exact prices will be made available (you'll hopefully read that also first on IndianAutosBlog.com). Volkswagen hasn't sold the kind of numbers that has the competition worried. If the Jetta is given the publicity the Passat enjoyed chances are Corolla, Laura and Cruze buyers will look at it as a serious option. The new Jetta retains the engine its predecessor had but its behavior is expected to change.
Volkswagen sells two versions of the Jetta. The one for the American market (NCS) is a low cost Jetta designed to sit at a lower price point with slightly inferior interiors. The European model which India gets is a luxurious small saloon, with soft-touch plastics on the dashboard with higher comfort for rear seat passengers.
We hope the replacement model takes a leaf out of Vento's book and creates a shakedown in its segment.