I am the first Bug to bite the entire world
I am the car that changed the motor car
I am known as people's car
After all these decades, I am still cute
I am not just looks, just look into the history books
I am the most manufactured automobile of a single design platform anywhere in the world
I am your VW Beetle!!
I am being unveiled in an all-new avatar on 18th April 2011 & my birth will be celebrated by international music stars on a special MTV World Stage taking place across continents at the same time.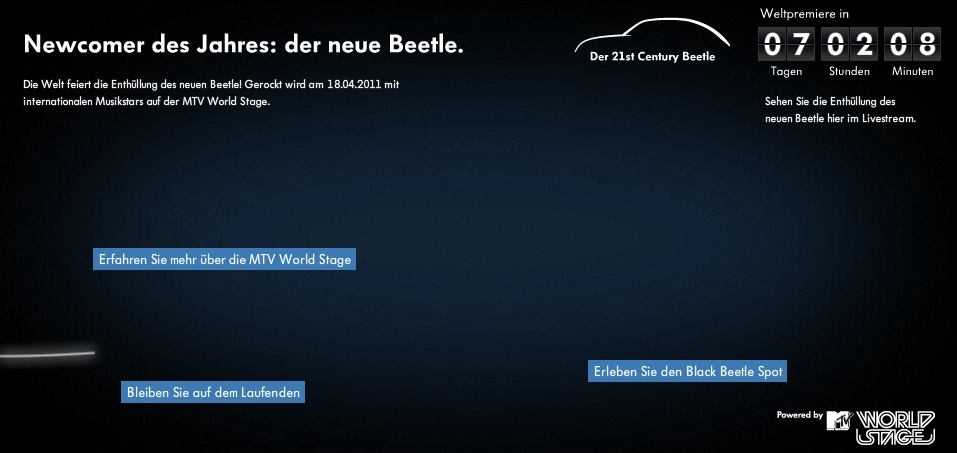 --
VW Beetle still turns head whether on the road or parked in a garage. No wonder despite its bank-breaking price tag,  it sold many times the Fiat 500' sales in India, which is also an iconic small car that enjoyed a similar status and fan-following in Europe.
What to expect from new Beetle worldwide:
More engaging drive, as it shares the platform with new Golf and Jetta
More Muscle in design than being soft and cute
More space and comfort, thanks to extended wheelbase
More powerful engines
What we expect from new Beetle in India:
More powerful engines, as the current one is a just workhorse and not a delight
Option of oil burner, no matter how much Indians spend they look for practicality
Leather interiors, luxurious price needs luxurious touch
More goodies like sunroof, a nicer audio system and features like Xenon lamps that further justify the premium pricing.
As we reported before, the new Beetle will not be assembled in India as the volume, though surpassing the initial targets by a hefty margin, is still limited. VW is consistently selling 20-25 units of the Beetle every month in India. For a two-door car costing over 20 lakh rupees, it is a commendable figure.
You can view more details on the 21st century VW Beetle by going to the microsite - http://www.volkswagen.de/de/beetle/21st_century_beetle.html