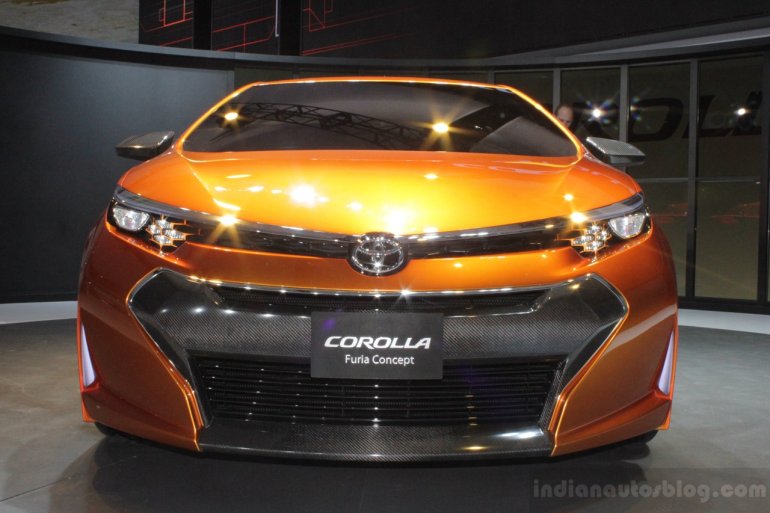 The Toyota Furia Concept showcased at the Detroit Motor Show last month created a real stir in the market because of its progressive (read aggressive) design. The reason for such a dramatic shift in design is because Toyota's future profitability depends on the success of the new Corolla.
Toyota is putting all its eggs in one basket when it comes to the new Corolla. The automaker was recently reinstated as the number 1 automaker in the world and the new Corolla will help cement its position for the next few years. The Japanese maker isn't betting on the next gen Prius or all-new Camry that was recently launched worldwide because they sell nowhere close to the volumes of the Corolla.
Since the first Corolla rolled off the production line in 1966, there are 40 million copies on the road now. Sure, the profit per car is very less because Corolla is a mass market sedan but if you sell that many, your profitability is very strongly dependent on that product.
Unfortunately, the Corolla brand is losing out to the competition. Toyota only sold 1.21 million units in 2012 from a peak of 1.42 million units in 2006. Competition such as the Hyundai Elantra and Honda Civic have drastically changed the market scenario. Adding to that, the stigma attached with the Corolla brand of being the dullest car in the automotive history has taken a toll on the sales figures.
To shoo away the stigma, the development of the next generation Corolla has been taken over by Mr. Akio Toyoda himself. The head of Toyota promises a more interesting car with a greater focus on younger customers.
The biggest challenge for Toyota will be to undertake aggressive innovations when developing the new Corolla. Other automakers such as Ford and Volkswagen have invested heavily in new technologies and completely changed their product portfolio in the past few years. Toyota, on the other hand, is still sticking to the stone age Valvematic and VVT-Is technologies and the old E120 and E140 platforms. Despite being the number one automaker in the world, no one is 'looking up' to Toyota anymore.
Toyota needs to realize that it cannot rely on it past laurels to be the future king of the auto market. It needs to change with the increasing customer needs and aspirations or there will be a time when people will say "Remember when Toyota was the biggest carmaker in the world?"
Source: Autonews.com