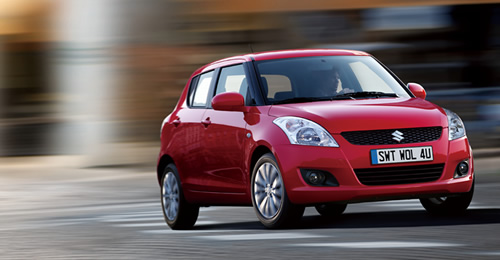 Update - We've misread UK mpg as US mpg and the conversion was incorrect. The New Swift returned 24.1 kpl as opposed to the previously published figure of 29kpl.
The all new Suzuki Swift is making headlines in the UK. The Swift was a part of the 2010 MPG run organized by Fleet Magazine.
With a 1.2 liter VVT 94 PS Petrol engine under the hood, the car achieved a phenomenal figure of 68.10 MPG (24.1 kpl) which is an improvement of 20.5% over the official figure of 56.5 MPG. It was declared the winner of the class 1 'improvement' category.
The marathon started at Ettington, Stratford upon Avon and had 34 competing cars on a challenging 380 mile route which was designed to reflect the normal city driving conditions. It included major roads, motorways & dual carriageways.
The Swift has been recognized as one of the most cleanest and safest small cars in the UK with emissions of just 116g/km.
We just can't wait to have the new Swift in India. With its spruced up interiors and upgraded exteriors, this new Swift is sure to receive a warm reception in India. The interior room has improved slightly and the quality has gone up a notch too. What will this translate into when it comes to India next year?
Stick to IAB to get more on that.
Source - Car Pages