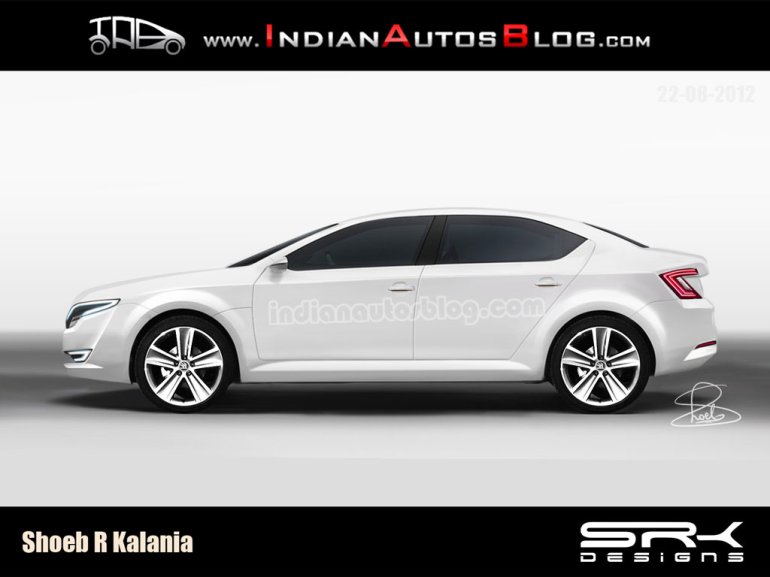 Autocar reports that all new Octavia (called as the Skoda Laura in India) will not be unveiled at the Paris Motor Show.
In fact, the next generation Octavia will be unveiled for the first time in November this year.
In the past, we have brought you many renderings of what the next generation Skoda Octavia might look like. We also brought you a scintillating piece on partial reveal of the Skoda Octavia.
The next generation Octavia will be based on the MQB platform and will be slightly bigger yet lighter than the existing one. The overall length could stand at 4.8m providing a more comfortable rear seat space. The wheelbase will be stretched to 2,620mm (from 2,578mm).
It will also move more up market in the positioning because of the recently launched Skoda Rapid sedan. The all new Octavia will move up from the C segment and into the D segment sedan category.
It will be available in two body styles – liftback and wagon. The engines will be derived from the Golf. The petrol onslaught will be headed by a 1.4 TSI petrol with cylinder deactivation technology. The diesel charge will be headed by a 1.6L TDI. Both engines will be mated to 5-speed manual to a dual clutch gearbox. A more powerful VRS version will be powered by an EA888 turbocharged 2.0-litre petrol engine.
For a comprehensive look at the next generation Octavia, head over to our deep dive right here.
[Source: Autocar.co.uk]