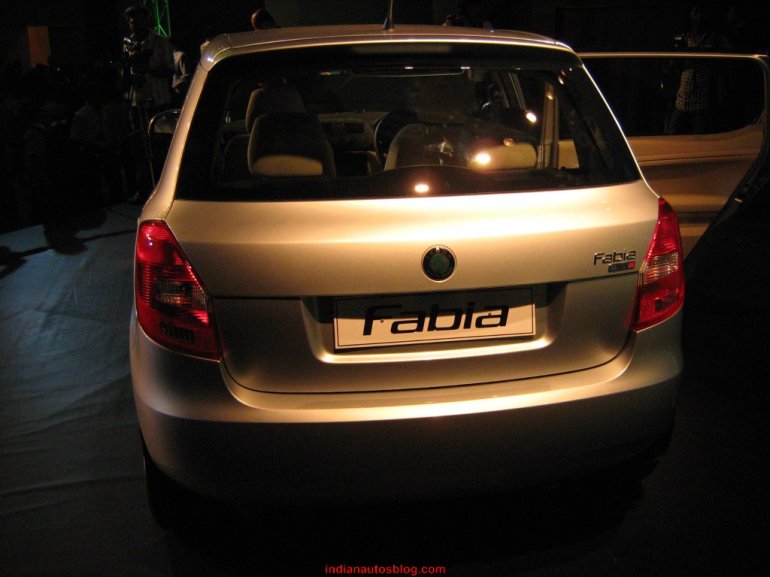 Report by Kaustubh Shinde
If you have been tuned in to IAB, you must have noticed that this month has seen a slew of launches (and more to come). We are constantly running around Mumbai city to make sure that you are updated about each new launch. But none of them have been as dull as the new Skoda Fabia.
Don't get me wrong. As a product, it is a very good value proposition. Fabias have always been known for that. But there is nothing in it that made me go WOW!
Let us get down to what's what
The new Skoda Fabia is a result of the new BS IV norms kicking in 13 major metros during April this year. It took them such a long time to come out with the BS4-ready car. The most happening and important segment today for any player is the compact car segment and that's where Skoda wasn't fully present all this while.
The new car is not that far from the outgoing one. The one major difference in the new proposition is that (and this one I didn't expect) they have given an option of 1.6L MPI engine for enthusiastic drivers. This is the same engine that its sister car Polo uses. The rest of the 2 engine are also lifted directly from the Polo. So the 3 engines that are available are:
* I.2L MPI (petrol): 75 bhp @5400 rpm and 110 nm of max torque @ 3750 rpm
* 1.6L MPI (petrol): 105 @ 5250 rpm and 153 of max torque @ 3800 rpm
* 1.2 TDI (diesel): 75 bhp @ 4200 rpm and 180 nm of max torque @ 2000 rpm
Other new features include a new front end, a new steering wheel (lifted from the Laura) and a new stereo (also lifted from the Polo). Yes, someone was very busy in VW's spare parts section. It is available in 3 variants Classic, Ambiente and Elegance and can be brought in 5 different colors.
The only reason I could find for someone to actually buy this car is the price. The car starts 4.35L (for the entry level) and goes right to 5.99L (for the 1.6L engine) ex showroom Delhi. If you are in Maharashtra, the car starts at 4.19L and goes right to 5.81L.
The hatch market is the fastest growing market in India. All the major auto manufacturers are aggressively hitting this market with very competitive offerings. And this situation is only going to get more aggressive with the entry of Toyota and Honda. In such a competitive scenario, the Fabia can't put the frighteners on the competition. If anything, it'll be easily overshadowed by the competition.
New Skoda Fabia Image Gallery
Press Release
ŠkodaAuto India introduces the fabulous new Škoda Fabia
~ŠkodaAuto India introduces the New Fabia with 1.6 MPI, 1.2 TDI CR and 1.2 MPI engine programme~
o Premium appointments comprising interior chrome decor, ivory interiors and soft-touch dashboard
o Airbags for all models – including dual airbags starting from the mid version. Unique to class safety systems – EBC (engine braking control) and Dual Rate brake assist
o The highest performance engine in its class (1.6 MPI)
o One of the most fuel efficient diesel motor (1.2 TDI CR)
o Largest luggage compartment in class
o One of the most spacious passenger cabins in the segment
o New signature Škoda design reminiscent of larger Škoda models
Mumbai: 12th October 2010: ŠkodaAuto India, a fully owned subsidiary of ŠkodaAuto a.s., Czech Republic and one of the most promising automobile companies in India, today announced the launch of the new Škoda Fabia. The all new Škoda Fabia offers a complete new package boosted with plush interiors and dynamic exteriors, innovative features and engine technology.
Speaking at the launch, Mr. Thomas Kuehl, Board Member & Director, Sales & Marketing, ŠkodaAuto India said, "The new Škoda Fabia underlines Škoda's belief in providing its customers with clever and intelligent mobility solutions. We believe that the new Škoda Fabia exemplifies significant developments in form and function. It caters to larger group of people who want a premium hatchback, with the best of technology, safety and practicality in their car,
yet accessible price range with an improved value for money proposition. We are confident that the New Škoda Fabia will surpass the expectation of all and will be received well by our customers".
Talking about the customer base, Mr. Kuehl further added that, "The prospective buyers of the new Škoda Fabia are an exacting and demanding group aiming for the best in class. They do not want compromised solution, but a balanced value proposition. Moreover, these are the customers who appreciate the finer aspects in life and hence would like to own something as stylish and precise as the new Škoda Fabia."
Complementing this opportunity, Mr. Ashutosh Dixit, Sr. General Manager, Sales & Marketing, ŠkodaAuto India added, "It has been our constant endeavor to bring newness in terms of design, comfort and technology. New Škoda Fabia is an exemplary model of this focus and customer feedbacks. These three variants with advanced engine technology are result of extensive research with our customers and will cater to the requirements of a wider array of customers. New Škoda Fabia also continues the promise for utmost safety to the driver and the passengers with safety functions like Anti-lock Braking System, Engine Braking Control and Dual Rate Brake Assist. In totality, now it is a fabulous package and hence the line - "NOW THAT'S FAB"
The launch of the new Škoda Fabia emphatically enunciates recently appointed ŠkodaAuto BOD Chairman Prof. Dr. H.C. Winfried Vahland's growth strategy of further reinforcing Škoda's presence in markets that offer a good potential for growth by extending product portfolio to get to new segments to result in profitable growth..
New Skoda Fabia is available in the following variants:
* 1.2 TDI CR (Diesel) – available in Classic, Ambiente & Elegance variants
* 1.2 MPI (Petrol) – available in Classic, Ambiente & Elegance variants
* 1.6 MPI (Petrol) - available in Elegance variant.
Engine Options in New Škoda Fabia:
The New Škoda Fabia is available in three engine options; 1.6 MPI, 1.2 TDI CR and 1.2 MPI.
1.6 MPI - : The best performance in its class, it is an absolute delight for a spirited driving experience. It is equipped with 1598cc engine, 4 cylinders which generate 105 bhp at 5250rpm.
1.2 MPI – Smooth and silent performer with improved output, comes with 1198cc, 3 cylinders, MPI engine which generates 55-75 bhp at 5400rpm. The smooth and peppy engine delivers quietly and economically, which suits most urban applications.
1.2 TDI CR - One of the most fuel efficient diesel motor, features a Turbocharged Direct Injection Common Rail 1199cc engine which generates a maximum power of 75bhp. With its low fuel consumption it is an ideal car for the high mileage user.
All the variants of the New Škoda Fabia are geared with a Manual 5-speed transmission, which suits the cut and thrust of the city traffic ensuring a better driving experience.
Design and styling of New Škoda Fabia:
The exterior of the new Škoda Fabia stands out for its robust and dynamic design. The well- defined creases along the front bumper with the sharp lower outline, wider air dam and the protrusion of the front grille combine to give a sporty frontal expression to the car. The elongated headlamps and fog lamps stretch outwards to the sides and define the width of the car. The Rear combined lights with their characteristic C-shaped translucent tail lights, reflects the Škoda DNA all the way.
The interiors too are enlivened with high quality detailing with premium appointments comprising of chrome decor, ivory colour and soft-touch dashboard. It enhances the visual and tactile impression of the car. Also the new checkered upholstery makes its debut with the new Skoda Fabia which adds to the overall premium feel of the car.
'Fabulous' Safety Features of New Škoda Fabia:
The New Škoda Fabia is armed with Airbags for all models – including dual airbags starting from the mid version. Unique to class advanced Safety features like ABS (Anti-lock Braking System), EBC (Engine Braking Control) and Dual Rate Brake Assist, adjustable seat belts and child proof door and window locking ensure utmost security for the driver and passengers.
Comfort and Convenience at its best – New Škoda Fabia:
The New Škoda Fabia is the epitome of comfort. It is truly the best in terms of the ample legroom and headroom space offered in a hatchback. The height of the driver's seat and the steering wheels arrangements (height and length) can be adjusted as per the driver's convenience. The Multi function display gives the driver a regular update on the distance travelled, average speed, immediate fuel consumption, average fuel consumption, travel distance before refueling, service interval, outside temperature etc.
Shades Available in New Skoda Fabia:
The three variants of new Škoda Fabia are available in an aesthetic array of colors- Cappuccino Beige, Brilliant Silver, Candy White, Deep Black and Flash Red.
New Skoda Fabia price