Mitsubishi Motors Philippines Corporation (MMPC) is showcasing the Mitsubishi Pajero facelift, ASX facelift, Concept GR-HEV, Outlander, Montero Sport (Pajero Sport in India), Lancer, Mirage and Mirage G4 (Attrage in other countries) at the Philippines International Motor Show 2014 (CAMPI 2014) which concludes on September 21.
Mitsubishi Concept GR-HEV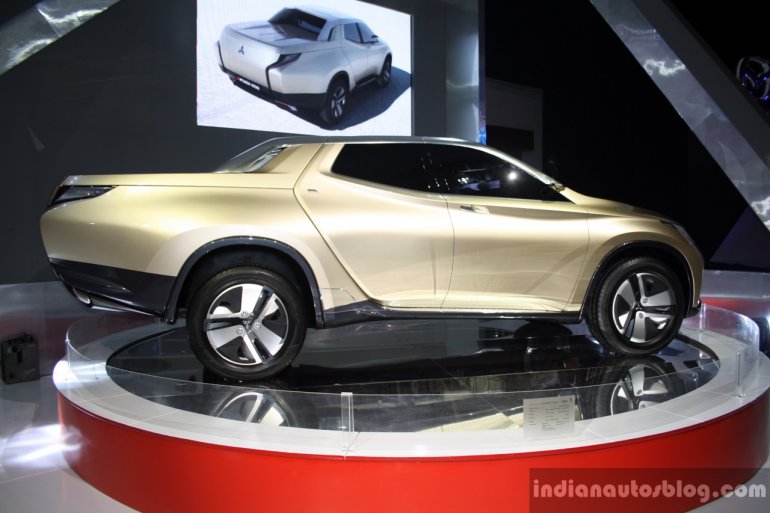 The Mitsubishi Concept GR-HEV serves as a precursor to the next gen Triton pickup which would in turn give birth to the next gen Pajero Sport. The concept is powered by a hybrid system which involves a 2.5-litre diesel engine and an electric motor. Power is channeled to all the four wheels.
Dimensions:
Length: 5,420 mm
Width: 1,930 mm
Height: 1,775 mm
Wheelbase: 3,000 mm
Mitsubishi Outlander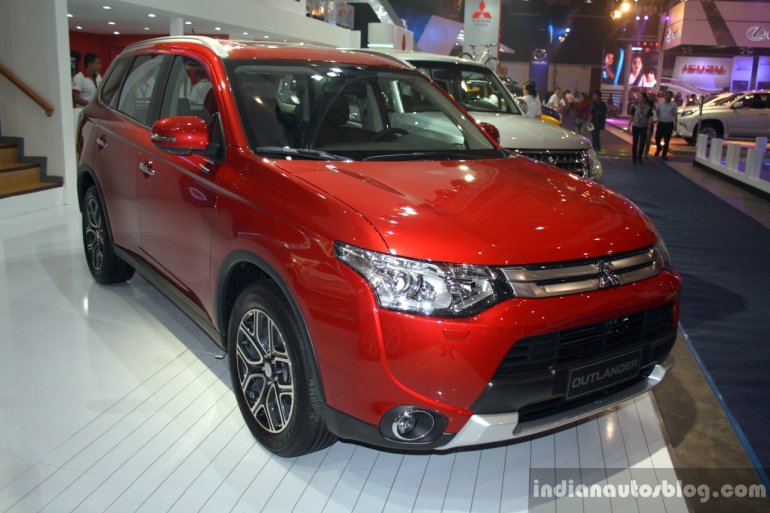 The Mitsubishi Outlander has also graced the PIMS 2014. Powertrain options for the crossover SUV in the international markets include a 2.4-litre four-cylinder petrol unit dishing out 166 PS and 220 Nm of torque and a 3.0-litre petrol V6 which is good for 224 PS and 291 Nm of torque. The former uses a CVT while the latter gets a 6-speed AT.
Dimensions:
Length: 4,656 mm
Width: 1,811 mm
Height: 1,679 mm
Wheelbase: 2,670 mm
Mitsubishi Montero Sport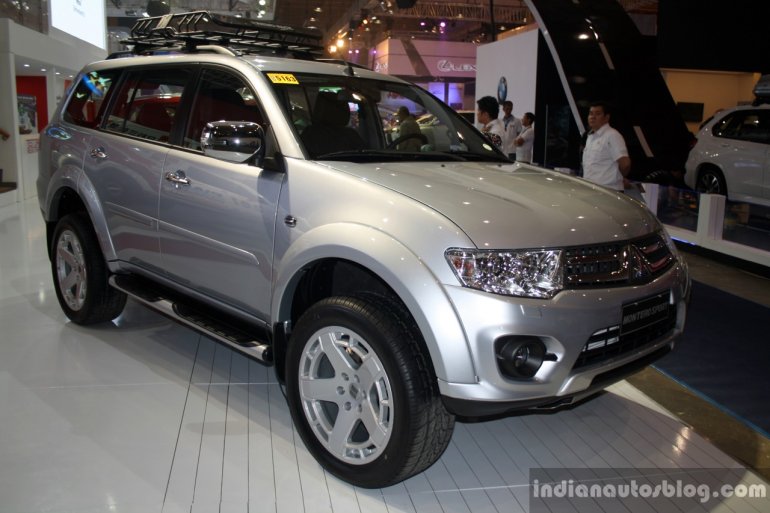 The Montero Sport is called as the Pajero Sport in other markets like India. The Triton-based SUV is powered by a 2.5-litre four-cylinder diesel engine which is available in two states of tune. The base version offers 136 PS and 314 Nm of torque, and powers the rear wheels via a 5-speed manual transmission and higher variants have 178 PS and 350 Nm of torque. A 4x4 system and a 5-speed AT are on offer.
Dimensions:
Length: 4,695 mm
Width: 1,815 mm
Height: 1,840 mm
Wheelbase: 2,800 mm
Price: Php 1.458 million (around INR 19.92 lakhs) - Php 1.758 million (around INR 24.02 lakhs)
Mitsubishi Lancer EX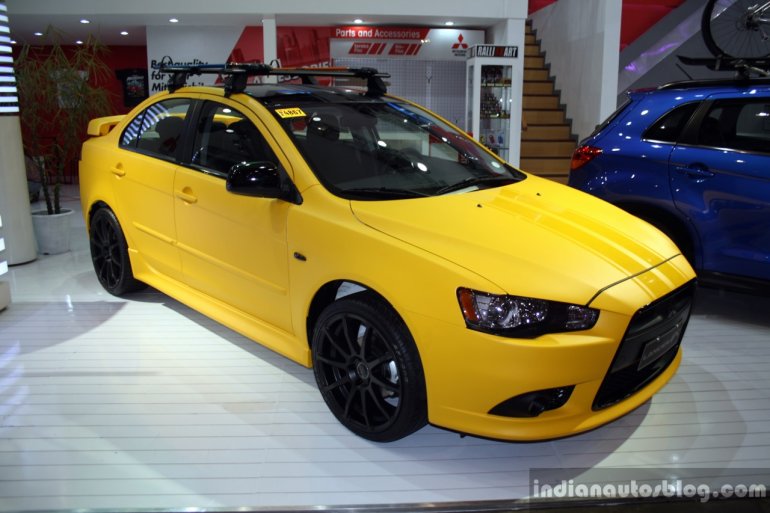 The Mitsubishi Lancer EX in Philippines can be specified with a 1.6-litre gasoline motor generating 117 PS and 154 Nm of torque or a 2.0-litre gasoline engine belting out 150 PS and 199 Nm of torque. The smaller motor gets a 5-MT or a 4-AT while the bigger engine is equipped with a 6-step CVT.
Dimensions:
Length: 4,570 mm
Width: 1,760 mm
Height: 1,505 mm
Wheelbase: 2,635 mm
Price: Php 840,000 (around INR 11.47 lakhs) - Php 1.195 million (around INR 16.32 lakhs)
Mitsubishi Mirage G4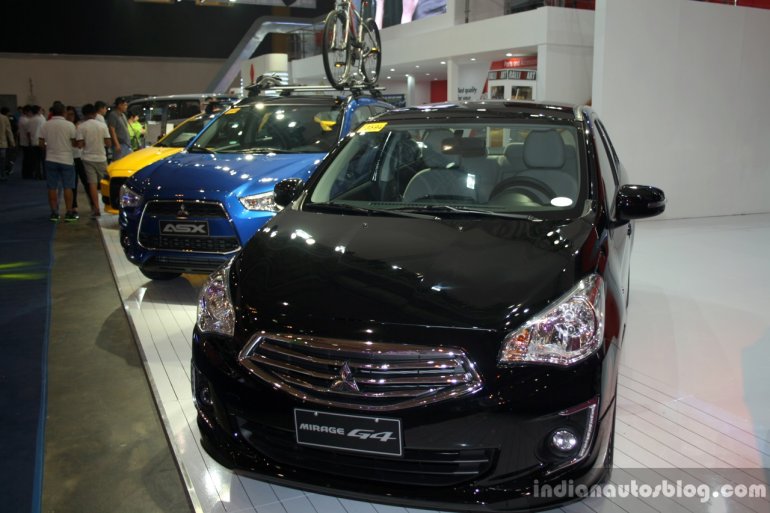 The Mitsubishi Mirage G4 (called as the Attrage in international markets) has a 1.2-litre three-cylinder gasoline engine under the bonnet. Mated either to a 5-speed manual gearbox or a CVT, the motor delivers 78 PS and 100 Nm of torque.
Dimensions:
Length: 4,245 mm
Width: 1,670 mm
Height: 1,515 mm
Wheelbase: 2,550 mm
Price: Php 548,000 (around INR 7.48 lakhs) - Php 718,000 (around INR 9.81 lakhs)
Mitsubishi Mirage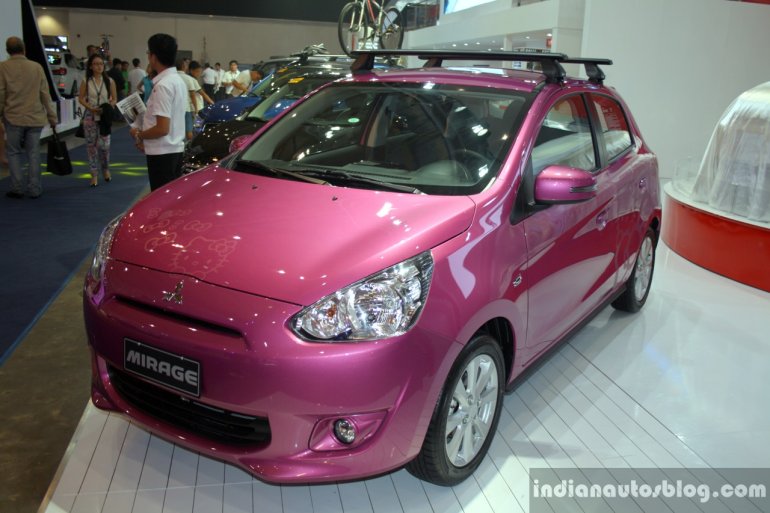 The Mitsubishi Mirage hatchback is the entry level model in Mitsubishi's lineup. The small car shares has the same powertrain setup as the Mirage G4.
Dimensions:
Length: 3,710 mm
Width: 1,665 mm
Height: 1,550 mm
Wheelbase: 2,450 mm
Price: Php 503,000 (around INR 6.87 lakhs) - Php 648,000 (around INR 8.85 lakhs)