The Mitsubishi Outlander has been on sale for many years now. However, like any other Mitsubishi product, the Outlander has been over shadowed by other competing products. As a result, the Outlander barely manages to ship 50 units every month. So Mitsubishi has gone the Maruti way and has introduced a special edition of the Outlander called the 'Chrome Edition'.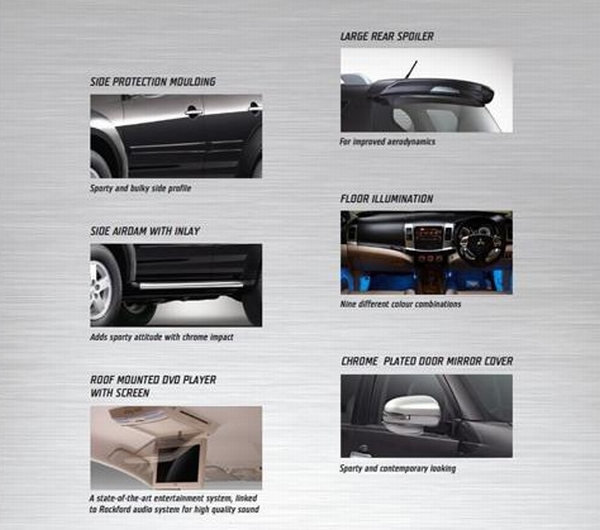 Unlike the name suggests, there is very little usage of chrome on the outside which is on the ORVM. The other changes to the exterior include a rear spoiler and some body protection mouldings.
On the inside, you get an illuminated and a roof mounted DVD player with screen. This pretty much sums up the Chrome Edition.
The Outlander is a very handsome looking SUV. The mean and aggressive face of the EVO suits very well to the SUV giving it a very distinct image. It looks and feels like a very premium product.
Considering it comes from Mitsubishi gene pool, it has decent off-roading skills as well. However, it has a serious flaw – It only comes in a petrol variant.
In modern times, where petrol prices have sky rocketed and even little hatchbacks like Swift are bought in diesel (Swift, Vista and Figo are diesel 8/10 times), driving a big and heavy SUV like Outlander in petrol doesn't seem like a wise decision.
In such a scenario, if they really want the Outlander to succeed, introducing a diesel variant instead of minor cosmetic changes makes more sense. Don't you guys think so?
[Source - GoaOnWheels.com]