Just like you, we also like exotic supercars, monstrous SUVs and offbeat concepts. But small cars have a special attachment for us as they have revolutionize the Indian automotive scene. Even globally, the trend of small superminis is catching up with developed markets like US and UK shifting their likings to hatchbacks.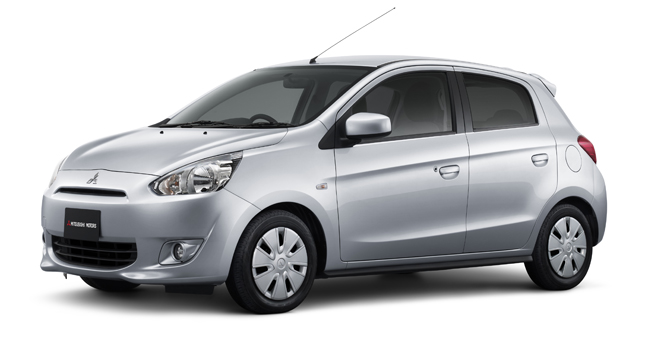 Embracing the trend is Mitsubishi which will showcase its new small car Mirage at the Tokyo Motor Show. The Mirage is the production version of the Global Small Concept that was first shown in Geneva earlier this year. This B segment hatchback measures 3,710mm long, 1,665mm wide and 1490mm high and is specifically developed for the emerging markets.
As one can see, the production version is nowhere near to the concept version that was showcased in Geneva. The styling is considerable toned down to makes sure that the cost doesn't rises exponentially. The idea behind Mirage is plain and simple – a cheap urban runabout Period!
With the rising fuel prices, Mitsubishi is gone to great lengths to make sure that the Mirage delivers the best possible mileage – a mindboggling 30km/lt. The company has taken the help of lightweight materials, a reduction in rolling resistance and higher efficiency through detailed improvements to the engine, transmission, brakes, tires, and aerodynamics, all aimed to help reduce fuel consumption and CO2 emissions.
Fuel saving technologies such as regenerative braking and an auto start-stop system will also be available in the Mirage.
The pony power will be delivered by 1.0-liter to 1.2-liter gasoline engines mated to a new generation CVT gearbox. The Mirage will be on sale  in Thailand in March of 2012, more and more markets will be added as the time passes.
Back home, Mitsubishi India is an a dormant mode with no new models on cards. The company is just launching special editions and variants to survive. The Mirage will certainly turn a few heads in the Indian automotive scene.
Do you want the Mirage to be launched in India?