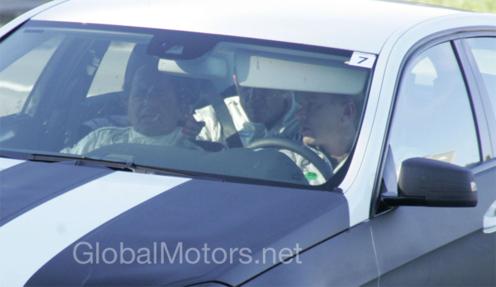 Mika Hakkinen, who gave all kinds of nightmares in his Mclaren Mercedes to Micheal Schumacher during his racing career, was spotted testing the E-Class around the famous Nurburgring circuit in Germany. And no, he wasn't hunting him down for a race or something, but what Mika was actually doing was some real-time testing for Merc.
It appears like the Flying Finn can't stay far from fast cars and racing circuits for a long just like Micheal, and the Mercedes engineers were more than pleased to have his feedback as he along with German touring car champion Klaus Ludwig lapped the ring in an AMG-Powered E-Class fully geared in racing outfits.
The next-gen E-Class will succeed the current one sometime in 2009, and will sooner or later make it to India. The first test mules were photographed testing more than a year ago, and quite understandably, as Mercedes put all their cars through stringent testing programs in an assortment of terrains across the globe.
The E63 AMG, which Mika is photographed driving will obtain a powerful engine which should be good enough to whip up around 550 hp and going by their observations, it should hold on the world's most wildest exhaust notes. World debut is anticipated at the Geneva Motor Show in March 2009.
Source- The kewl doods at Global Motors