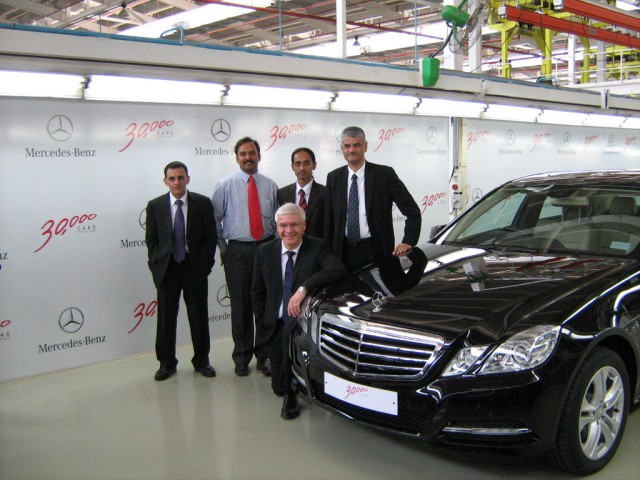 By Kaustubh Ashok Shinde
A year back, a fantastic story hit the tabloids about BMW outselling Mercedes in India. The reason why this was HUGE is because the three pointed star (almost synonymous to a luxury car) has never seconded anyone ever in the Indian market.
However, it didn't take long for Mercedes Benz to set things right. With a slew of launches right from the C Class to a SLS AMG, Mercedes literally muscled its way back to the top slot.
Today was a rather a 'Pay Day' for all that effort as the company rolled out its 30,000th car from the Chakan plant – A Black E350 CDI. On the occasion the company had several important announcements. Here is a gist of the press event:
* Mercedes recorded a YoY growth of 86% in Jan-Nov 2010
* Because of the overwhelming response from the market, the company will start a second shift which will be permanent
* They have also established a new paint shop with an annual capacity of 20000 units that can be extended to 40000 units if required. This new paint shop takes the total Chakan investment to 600 CR.
* The company plans to increase its portfolio of locally produced cars beyond S, E, C class by 2013.
Sadly the CEO of Mercedes to whom this success can be attributed – Dr Wilfried Aulbur will step down from his position in January 2011 as his tenure has been completed. Dr Aulbur was instrumental in building this company and steering it back ahead of arch rival BMW this year. He will be missed by his employees.
Mercedes also gave IAB an exclusive factory tour which was fantastic and shocking at the same time. We expected it to be a lifeless, completely automated place where workers just press buttons and things happen. Much to our surprise and delight, it isn't.
It is a vibrant place where the workers are paying attention to even the minutest details. We actually saw a worker staring at the Mercedes logo for 10 minutes before he finally approved it. Yes, these workers also get to test drive each and every vehicle around the factory (So we were a bit jealous) all in the name of 'Quality'.
The 100 acre Chakan plant was inaugurated in 2009 to support the rising local demand. It took them 13 months to complete the plant and they only have managed to use 60 acres of it. With the company's ambitions to locally produce a lot more products than its existing portfolio, I am sure it wont take them long to utilize the remaining place as well.
The plant is responsible for CKD units of C, E and CBU units of S classes respectively. It also supports the company's commercial vehicle business. And NO AMG's are done over here, so we were a bit disappointed. The plant is extremely well organized and surprisingly quiet (so basically German).
Earlier, the vehicles were sent to the Tata facility for paint work, but with the new paint shop even that will be done in-house.
We will not describe the production process in detail as that would be too long and we have lined the pics up according to the production process. So have a look at the gallery and let us know what you think.
Mercedes Benz Pune Plant visit