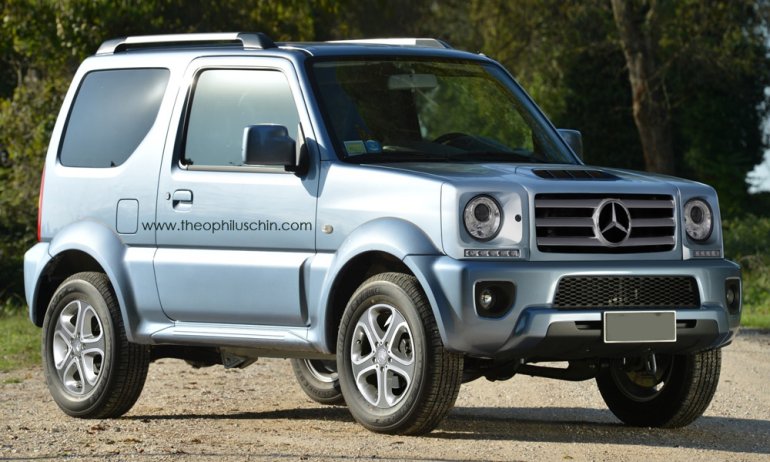 Autocar gets us some really interesting information on the upcoming Mercedes GLG, more popularly known as the baby G Wagen.
Back in October 2012, rumormills were churning on a really interesting product move by Mercedes.
To complement the Mercedes GLA, a compact SUV to rival the BMW X1, Mercedes was developing a niche SUV, something never ever seen before.
The plan was to miniaturise the essence of the history and tradition of the Mercedes G Wagen. The resulting product, tentatively called the Mercedes GLG, will be a soft-roader with macho and aggressive looks. Autocar reports that those rumors are indeed true and the baby G Wagen is right on track.
Codenamed X156 and internally called as the City-G, the Mercedes GLG Class will be based on a new JC1 (joint compact first generation) platform jointly developed by Daimler and Renault. It is essentially a refined and improved version of the MFA (Mercedes FWD architecture) that currently underpins the A Class, B Class, CLA and the soon-to-be launched GLA.
The new platform will support at least two different wheelbase lengths, varying track widths and both FWD and AWD architecture. Apart from the GLG, the new platform will also underpin the next generations of the current MFA cars.
Land Rover is considering a baby Landy on the lines of the DC100 Concept. If the DC100 styling is anything to go by, we can safely assume that the GLG's got company.
The new GLG SUV is expected to reach the market in 2016 with a price tag of 32,500 Euros (around 22 lakh INR).
[Source: Autocar.co.uk;Rendering Courtesy: Theophiluschin.com]