Mercedes bids adieu to the SLS AMG with the Final Edition that debuts today at the 2013 LA Auto Show. The Final Edition, as Mercedes says, "represents the last opportunity for customers to order a SLS AMG". Both coupe and convertible body styles will be available, though production of both put together is limited to 350 units.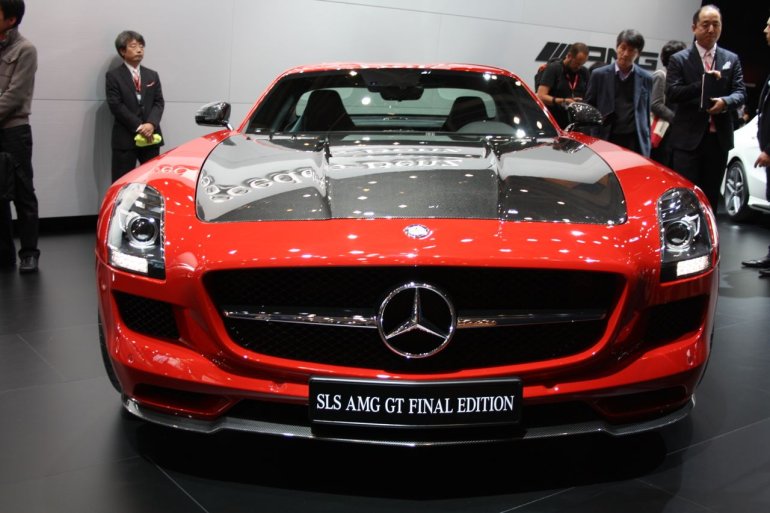 This special edition wears a carbon fiber hood and front splitter, and Mercedes have redesigned the front bumper as well. Further exterior changes come in the form of an updated rear wing and carbon side mirror housings.
The Final Edition SLS is available in the GT spec only. Which means that the 6.3-liter front-mid V8 engine produces 591 hp at 6,800 rpm and 650 Nm of torque from 4,750 rpm. Mercedes is not only killing the SLS, but also this 6.3 naturally aspirated V8 engine. It's a sad day indeed! The SLS will not get a successor, instead Mercedes will introduce a small, two-door sportscar in 2015. Rumored to be called the SLC, road tests of this sportster have already begun in Europe. The SLC will be more of a F-Type and 911 competitor, and should be powered by a new 4.0-liter twin-turbo V8 engine.
Mercedes-Benz SLS AMG Final Edition Image Gallery
Mercedes-Benz SLS AMG Final Edition - Press Release
[Head to Slideshare if you're unable to view the document above.]