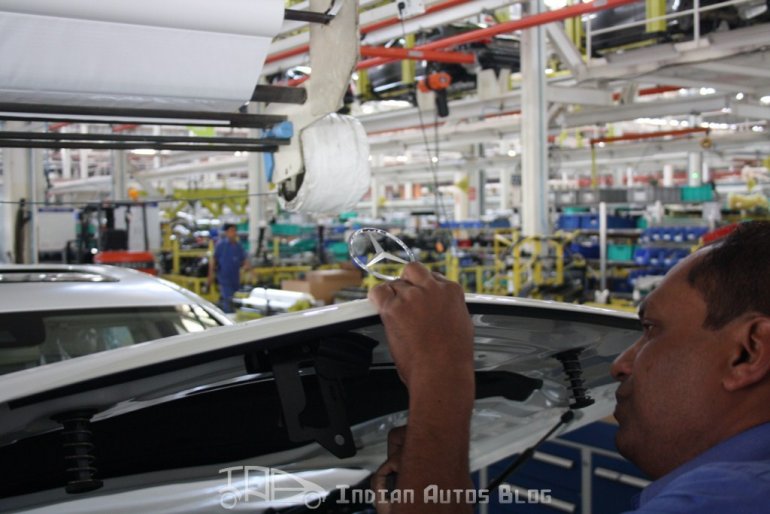 Mercedes Benz India invited a select group of automotive bloggers yesterday to tour its Chakan CKD plant and engage in a discussion with the senior management on products, strategy, competition and the market dynamics.  Let's dive straight into what company officials had to say to the question we asked them. Some of these questions were provided by Indian Autos Blog readers through Facebook, tweets and mails.
Demise of Maybach - More Joy or No Joy?
The plug on the Maybach brand is pulled next year and the senior management believes this is a good decision. When Maybach was deciding on its branding before its launch early last decade, country heads from Mercedes Benz all over the world voted for Maybach while some, feeling the unknown roots or meaning of Maybach would make its own life difficult, voted for Mercedes Maybach. The decision on the independent branding could have cost Maybach dear.
That said Mercedes is working on a premium car on the next generation S-Class to fill a part of the void left by Maybach. By late March this vehicle will be shown to operation heads of Mercedes Benz from around the world. This could be an uber-luxury variant sitting above the S600, boasting of supreme luxury and high level of technology.
Mercedes-Renault JV small car - Smart or dumb?
Mercedes-Renault have already begin testing the new platform that underpins the next generation Twingo, Smart ForTwo and Smart ForFour. One top official told IAB that the Indian operations cannot take a call on providing the HQ a proposal for launching this model in India until they get to see the car in flesh. This is likely to happen when a visit by some of the Mercedes India officials to Germany is made in about four weeks from now.
Even if the car convinces the visitors, it does not mean the launch is imminent. Launching the Smart brand and conveying what its USP is or what the brand stands for will take years and millions of dollars to accomplish. Its easier to launch this small car under the well-known Mercedes brand, but that would come at the cost of brand dilution. The "Project Edison" as the international media refers to it, may not be the right cars for a premium brand like Mercedes to sell in India.
Long wheelbase models - Not a stretch of imagination
Contrary to our belief, Mercedes India has not overlooked long wheelbase cars. They say the E-Class is the right car to offer the stretched version. There is a problem however. The stretched cars are available only in China and in the LHD (Left Hand Drive) configuration. RHD conversion is more complicated than it seems as these variants were not viewed as RHD cars or for RHD countries during their development. Mercedes does not show any interest in lengthening the C-Class. The E-Class long wheelbase looks like it will be called up for India duty very soon after undergoing re-engineering.
Station wagons - Disaster formula
Station wagons won't come to India as the common belief is these vehicles remind people of a hearse. Mercedes Benz has no second thoughts on these vehicles. They have given up on the idea of station wagons in India.
Lexus entry - Pricey?
Unless Lexus assembles its models in India, a Mercedes Benz official said they will not be able to make changes to the luxury market leader board. The high import duties could give Lexus a very hard time with price positioning. Lexus could have a small ambition due to this constraint.
A-Class - A class act for economy-minded India?
The A-Class may take up to two-three years to come to India. Mercedes Benz has other models on its business plan before going to the smallest of them all.
Number 1 or less numbers?
The number game has disturbed Mercedes India. Not having full stable of cars is affecting their volumes. Selling cars between 20-30 lakhs could significantly boost volumes (40-50% of luxury market is between 20-35 lakhs). Unless they have a more complete range, they may fall to number 3. As these will take time to come, Mercedes could have more of less-equipped variants in the future to compete in price with the German rivals.
Stay tuned to Indian Autos Blog as we much more in store from the Mercedes Benz bloggers meet.