Will be produced from January 2016 to May 2016.
2015 has been a very successful year for the Mercedes-AMG F1 team as they managed to win the Constructors' and Driver's championship along with the runner-up title. To celebrate this accomplishment with customers, Mercedes-AMG comes out with the Mercedes AMG Petronas 2015 World Champion Edition of the Mercedes A45 4MATIC.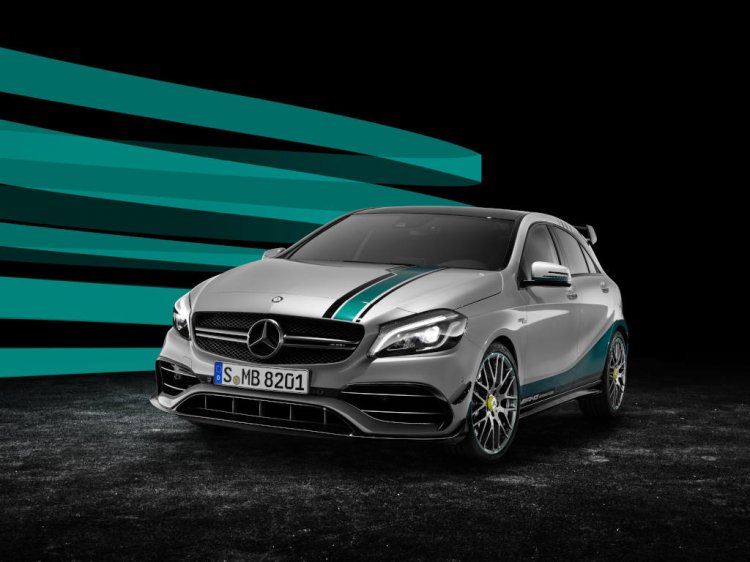 The body of the special edition bears the same colour scheme seen on the F1 W06 Hybrid championship-winning race car. The silver body paint is embellished with petrol green and black stripes while the sporty character is accentuated by a streamlining package. This package comprises of a larger front splitter with extra flicks and a gloss-black roof spoiler. The 19-inch wheels are also special and carry a titanium grey finish complete with a petrol green rim flange. Mountain grey metallic, designo mountain grey magno and polar silver metallic are the exterior colours available.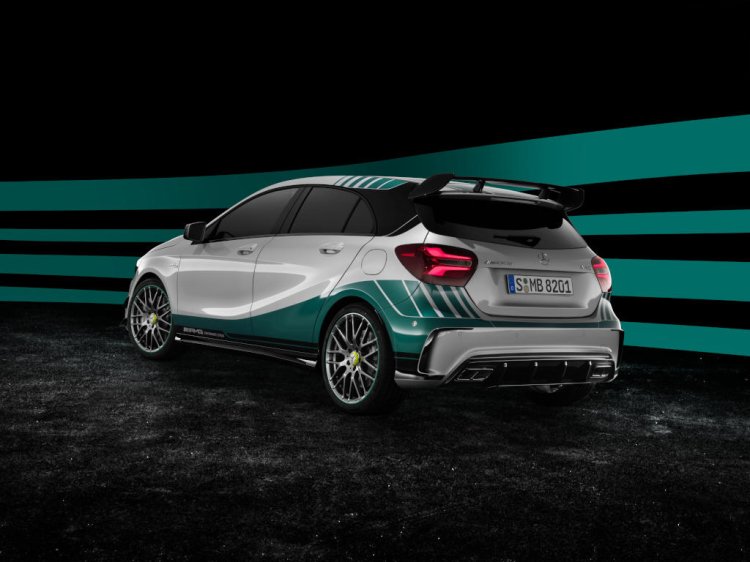 The interior welcomes occupants with electronically adjustable sports seats – that offer better lateral support – upholstered in leather and Dinamica microfiber. The is also the material that adorns the performance steering wheel. Like the exterior, the interior also features the petrol green shade prominently. This colour is seen on the dashboard, armrests, seat belts, air vents, highlight strips and as the 12 o'clock mark on the steering wheel. The exclusivity is aptly conveyed by the official lettering of the Mercedes AMG Petronas F1 Team on the lid of the stowage compartment.
Under the hood rests the AMG 2.0-litre four cylinder turbocharged engine generating 381 hp and 475 Nm of peak torque output. The transmission used is the AMG Speedshift 7-speed DCT sending power to all four wheels. The Mercedes-AMG A45 can complete the 0-100 km/h (0-62 mph) run in just 4.2 seconds.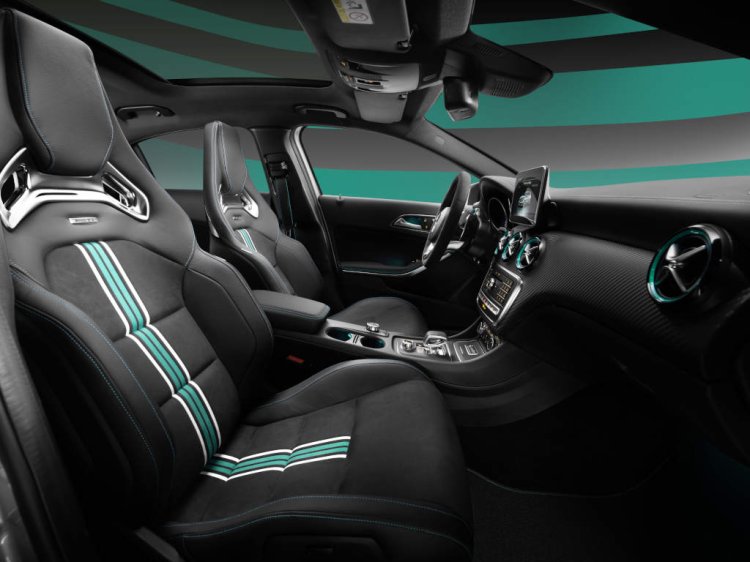 This special champion edition made its premiere at the Abu Dhabi Grand Prix in Yas Marina on November 26, 2015. The car has been officially priced at €65,402 in its home market of Germany and will be put into a limited production run that will take place from January 2016 till May 2016.
Mercedes-AMG A45 4MATIC - Press Release
[Slideshare link]