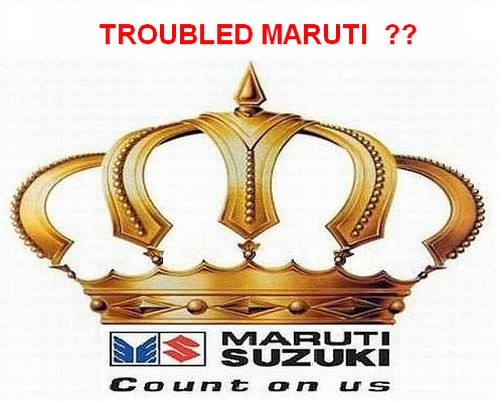 Maruti Suzuki is losing its market share in India steadily and for the first time in 25 years, Maruti Suzuki's market share has dropped below the 50% mark. Currently Maruti Suzuki's market share stands at 47%. Maruti has lost 6% of the market share as compared to lat year.

Maruti Suzuki has been the market leader in the Indian car scene for ages and a 47% market share is in no way ignorable but is the drop in the market share the result of new competitive players like Ford and GM offering better products and from now could Maruti's share steadily decline?
A Maruti Suzuki spokesperson -
The market continues to show robust demand and MSIL has shown consistently improved sales performance month after month. Almost all our models have a waiting period at the dealerships and our sales are constrained by capacity issues. We are rationalizing and de-bottlenecking at our plants to manufacture more cars. We have recently announced capacity expansion by 2.5 lakh units which will be in place by 2012.
Maruti Suzuki which was once the unquestionable king of the Indian car market is clearly threatened by homegrown as well as foreign manufacturers. Maruti Suzuki is facing stiff competition in every segment it is playing in and the future would be a nightmare for Maruti where every car company is aiming to assault Maruti.
The Ford Figo and Chevrolet Beat with faster delivery times are considerably eating into Maruti's small car sales and the Nissan Micra, Toyota Etios and the Honda NSC small car would soon join the assault party.
Maruti's bestseller Alto would also be challenged soon with Hyundai, GM India and Nissan planning to take on the Alto soon. The Alto would also face stiff competition from Ford and Peugeot who could also enter the Alto's segment in the future. The Tata Dolphin if launched could kill the Maruti Alto.
With strong threats from so many manufacturers would Maruti be able to hold its fort?

Cars that has threatened Maruti -
> Ford Figo
> Tata Nano
> Chevrolet Beat
Future cars Maturi should lookout for -
> Tata Dolphin
> Hyundai H800 small car
> Nissan small car with Ashok Leyland JV
> GM-SAIC small car
> Toyota Etios
> Ford B156 small car
Source: HT