At the unveiling of Mahindra's KUV100 NXT today, company officials have confirmed that the Jeeto LCV will soon come with a petrol engine. Currently, the sole option is a single-cylinder water-cooled m_Dura 625 cc diesel engine paired with a 4-speed manual gearbox.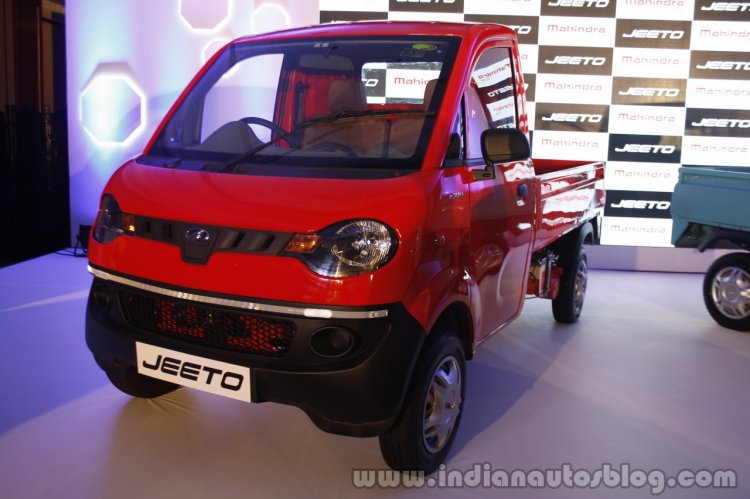 No further details on the new 660 cc petrol motor have been provided. It could be a two-cylinder, naturally aspirated unit also paired with a manual gearbox. So far, there aren't any petrol powered LCVs in the segment, given their low commercial viability. However, Maruti is planning to release a petrol version of the Super Carry in India, so the Jeeto petrol may not lack rivals come 2018. Tata Motors builds the Tata Ace with a petrol engine, but for export markets alone. M&M could also toy with the idea of strapping the gasoline motor to the Mahindra Jeeto Minivan.
Mahindra has also confirmed that an all-new 1.5L petrol engine will be debuting in 2018, which could power the Mahindra U321 MPV and the Mahindra S201 Compact SUV. It is part of the mFalcon modular family as the 1.2L 3-cyl petrol motor from the KUV100. Mahindra is also readying turbocharged and direct injection engines for the Indian market. Its introduction will depend on market requirements. Also planned for the near future is electrification of Mahindra Automotive's complete product lineup. Also Read: Low-cost variant of Mahindra Mojo spotted testing in Maharashtra
Today, Mahindra launched the Mahindra KUV100 NXT at prices starting from INR 4.39 lakh (ex-showroom). The KUV100 NXT is the facelifted model of the KUV100 that was launched early last year. A full electric variant is in the works for launch in the future, M&M officials confirmed.