Motivated by the government's plan to sell only electric cars by 2030, Mahindra Electric is going quite bullish with its EV plans. The company plans to introduce three new EVs by 2019-2020, says a report from Autocar Professional.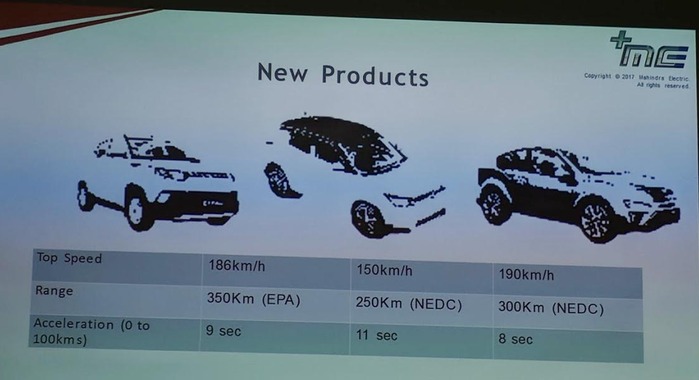 Mahindra Electric gave a presentation at a seminar on EVs and green shipping at the Norwegian Embassy in New Delhi yesterday. In his speech, Mahesh Babu, CEO, Mahindra Electric, said:
We are working on three new products with higher range (between 250-350km) and we will announce them by 2019-2020.
As evident from the images used, the three upcoming Mahindra electric vehicles seem to be based on the KUV100, SsangYong Tivoli, and Mahindra XUV Aero Concept. However, these images might have been used for representational purposes only. As stated in the presentation, the Mahindra KUV100-class EV will have a range of 350 km (EPA) with a 0-100 km/h acceleration time of 9 seconds. The SsangYong Tivoli-class EV will have a range of 250 km (NEDC) and will be able to accelerate from 0-100 km/h in 11 seconds. The Mahindra XUV Aero Concept-like EV will have a range of 300 km and the ability to accelerate from 0-300 km/h in 8 seconds.
Mahindra Electric is investing in new powertrains which will produce up to 150 kW (201.07 hp) and 400 Nm of torque. Babu mentions that these are highly efficient Permanent Magnet Synchronous Motor-type motor and vector controlled drive systems, which will level up the efficiency from 80% to 94%. The company will offer the new powertrains in single and dual drive architecture with maximum outputs ranging from 90-165 kW (120.64-221.18 hp).
The company is also focusing on high-density batteries. "Our focus is also on high-density batteries, taking the density from 80Wh/kg to 200Wh/kg with up to seven times the pack energy capacity from 10kWh to 70kWh," Mr. Babu said. These 48-volt to 650-volt systems will have the capability to deliver a real-world range of up to 400 km.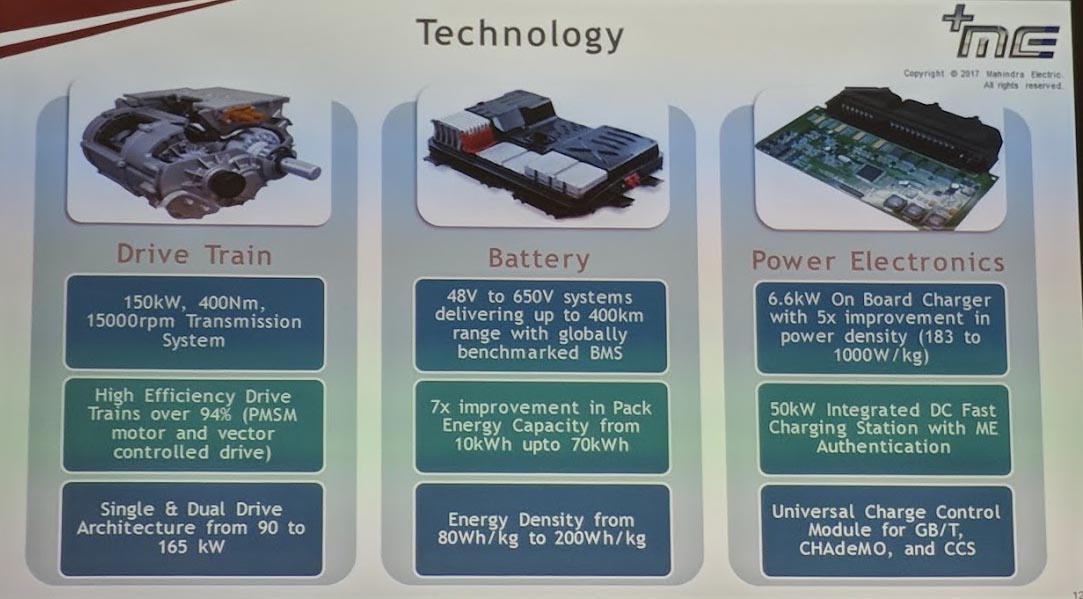 Also See: Mahindra KUV100 Electric spotted for the first time
Mahindra Electric currently sells four EVs. Two of these are passenger vehicles - the Mahindra e2o Plus and Mahindra eVerito. The remaining two are commercial vehicles - the Mahindra eSupro and Mahindra eAlfa.
[Source: Autocar Professional]