Mahindra e2o is a long overdue product whose launch has been deferred due to delay in Indian government's implement of the National Electric Mobility Mission Plan 2020 (NEMMP).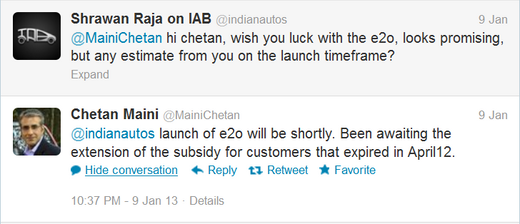 The NEMMP 2020 which was unveiled by Prime Minister of India Dr. Manmohan Singh in Delhi on 9th January aims at reducing the foot print of fossil fuel by 2.2-2.5 million tonnes in 2020. Apart from reducing the crude oil imports, the move also will reduce the CO2 emissions of by about 1.3-1.5% in 2020.
In order to realize the mission's objective, there has to be a conducive environment in the Indian auto industry and market to produce and sell electric and hybrid vehicles. The Indian government will invest around Rs. 13,000-14,000 Cr in measures that will enable faster consumer acceptance of the environment friendly vehicles and kindle R&D efforts towards clean mobility.
The government will also use the portion of the investment in setting up charging infrastructure across the country while the rest of the money that is needed to realize the plan will come from the auto manufacturers.
Mahindra will be the first automaker to take advantage of the NEMMP 2020 since they already have their e2o ready. We asked Mr. Chetan Maini, chief of technology and strategy of Mahindra-REVA via Twitter about the launch date and he quickly replied saying, "Launch of e2o will be shortly."
The subsidy for customers is a important part of the NEMMP 2020 and with that covered now, the Mahindra e20 is expected to be launched anytime from now.