After unveiling the Transparent Bonnet technology in the Land Rover Discovery Vision concept, JLR has come up with yet another interesting technology concept called as the Jaguar Virtual Windscreen.
The new technology uses the entire windscreen as a head-up display to project vital information so that the driver need not take his eyes off the road at all. The Virtual Windscreen projects high quality hazard, speed and navigation icons on the windshield to reduce driver distraction.
[Head to Youtube if you can't watch the video.]
It also aids performance driving on a race track by providing ideal racing lines, color-based braking guidance, virtual cones for driver training and ghost car racing (a virtual 3D image of the car's position on the previous lap will be displayed on the windshield or one can race against the virtual image of a lap uploaded by another driver).
In addition, JLR is also developing a new gen gesture control system which will track the user's finger movements within a range of 15 cm from the sensors. This technology can be used to control systems like the sunblinds, rear wipers and satellite navigation without having the need to operate buttons while driving.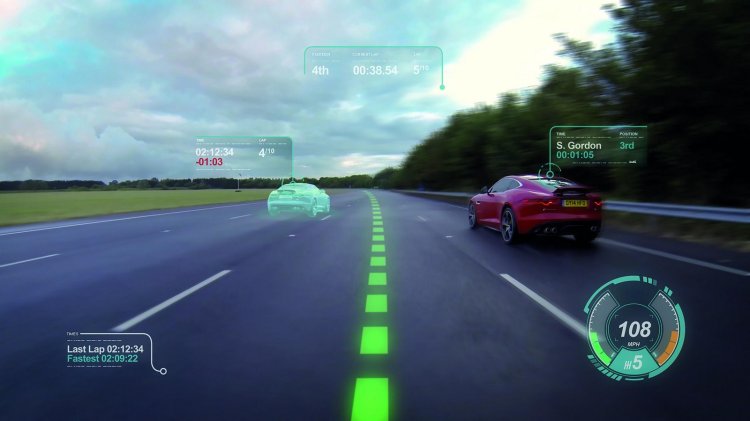 The rear view camera with spectacles-free 3D imagery that will replace the conventional ORVM is another James Bond style gadget that is being developed by JLR. The system uses a 3D instrument cluster which tracks the user's head and eye position on a real-time basis and creates a 3D effect by feeding each eye two slightly differing angles of the same image to create the perception of depth. This gives the driver the accurate information on the activities behind the vehicle.
The company does not revealed the time frame for the application of the cutting-edge technologies on road cars but the gesture control system could be in a JLR vehicle before the close of the decade.
More details are available in the press release below.
Jaguar Virtual Windscreen, Gesture Control and 3D rear view display - Press Release
[Head to Slideshare if you can't view the press release.]