Indicative prices of the new Land Rover Discovery and Velar have been leaked by the Jaguar-Land Rover Enthusiasts and owners - India Facebook group. Both SUVs arrive in India before the end of 2017 via the CBU route. The Land Rover Discovery will launch in October, and the Range Rover Velar will be introduced in November according to JLR's management.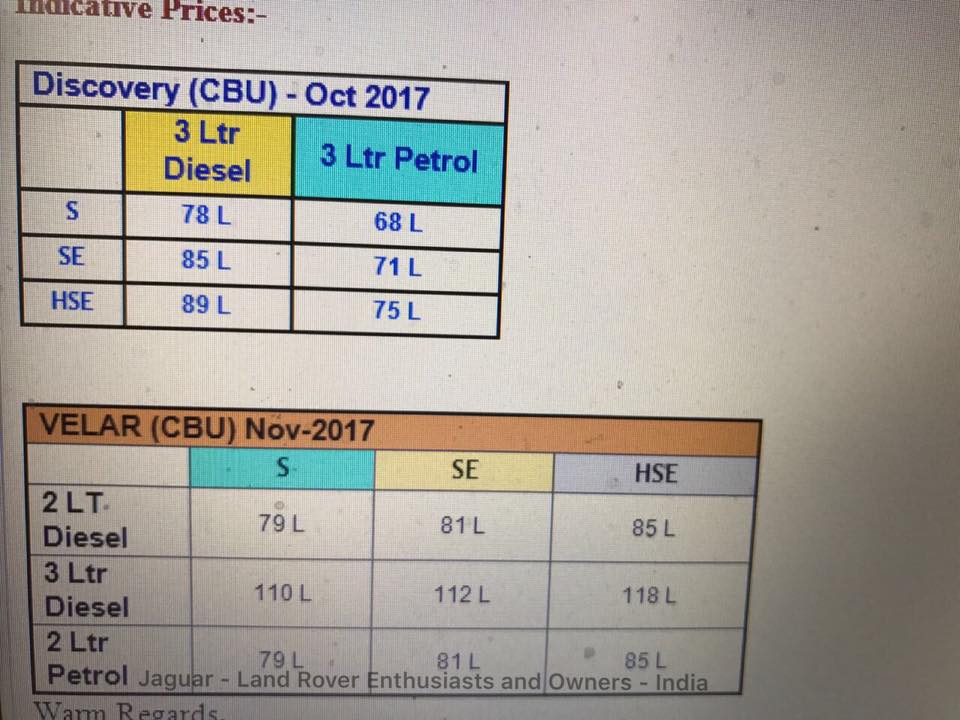 According to the leak, the Land Rover Discovery price will start at INR 68 Lakhs for the 3.0 L Petrol S trim. Top of the line HSE diesel variant with the 3.0 L Td6 V6 engine is expected to be priced at INR 89 Lakhs.
The Velar will be more expensive than the Discovery. The 2.0 L Petrol and 2.0 L Diesel S trims will be the cheapest at INR 79 Lakhs. The top end HSE trim of the 3.0 L Diesel variant will breach the one crore mark at an estimated price of INR 1.18 Crore. JLR dealerships we spoke to are unofficially accepting bookings for the Velar.
In India, Land Rover Discovery will come with two engine options - 3.0 L Td6 V6 Diesel and 3.0 L Si6 V6 Petrol. The 3.0-litre Td6 V6 engine makes 258 PS and 600 Nm of torque. The 3.0-litre Si6 V6 engine puts out 340 PS and 450 Nm of torque. Both engines get an 8-speed automatic transmission and a four wheel drive system as standard.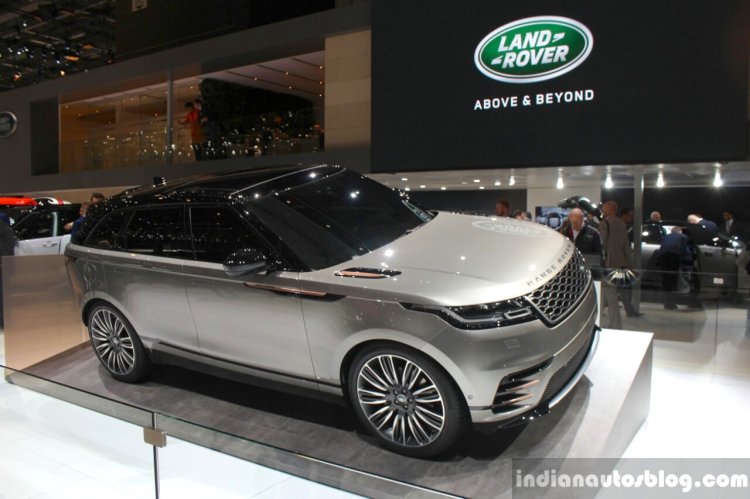 Powering the Velar will be a 2.0 L Ingenium petrol, 2.0 L Ingenium diesel and a 3.0 L Td6 V6 diesel. The 2.0 L Petrol unit has a maximum power output of 250 PS while the 2.0 L diesel will either output 180 PS  or 240 PS. The range topping V6 Diesel makes 300 PS of maximum power. Like the Discovery, an 8-speed automatic transmission and all-wheel drive is standard across the range.
Land Rover Discovery Price (Indicative)
| | |
| --- | --- |
| Variant | Estimated Ex-showroom Price |
| Land Rover Discovery 3.0 Petrol S | INR 68 Lakhs |
| Land Rover Discovery 3.0 Petrol SE | INR 71 Lakhs |
| Land Rover Discovery 3.0 Petrol HSE | INR 75 Lakhs |
| Land Rover Discovery 3.0 Diesel S | INR 78 Lakhs |
| Land Rover Discovery 3.0 Diesel SE | INR 85 Lakhs |
| Land Rover Discovery 3.0 Diesel HSE | INR 89 Lakhs |
Range Rover Velar Price (Indicative)
| | |
| --- | --- |
| Variant | Estimated Ex-showroom Price |
| Range Rover Velar 2.0 Petrol S | INR 79 Lakhs |
| Range Rover Velar 2.0 Petrol SE | INR 81 Lakhs |
| Range Rover Velar 2.0 Petrol HSE | INR 85 Lakhs |
| Range Rover Velar 2.0 Diesel S | INR 79 Lakhs |
| Range Rover Velar 2.0 Diesel SE | INR 81 Lakhs |
| Range Rover Velar 2.0 Diesel HSE | INR 85 Lakhs |
| Range Rover Velar 3.0 Diesel S | INR 1.10 Crore |
| Range Rover Velar 3.0 Diesel SE | INR 1.12 Crore |
| Range Rover Velar 3.0 Diesel HSE | INR 1.18 Crore |
Land Rover Discovery - Image Gallery