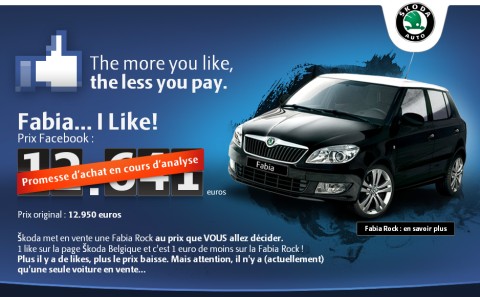 With 3/4 citizens of this generation lurking full time on social media sites like Facebook, Twitter et al, auto companies are now seeing these hubs as their potent tool to woo prospective customers.
Almost all of the major players have doubled their investment so as to market their products via sites like these. Manufacturers also believe social media will play crucial role for brand-building in the coming years.
A senior marketing official of a top auto manufacturer was heard saying "You cannot avoid social media anymore, with increased sales of smart-phones and internet penetration all over the country, no marketer can afford to ignore it.."
The inset shows Skoda promoting its Fabia through Facebook in Europe. The innovative campaign discounted the price of the car based on the number of likes the page received.
It's not just Maruti Suzuki or Mahindra which are working on this new marketing mantra. Hyundai & Tata Motors have reportedly doubled their spending on digital media as well.
You can see each of the cars have their separate page for advertisement on these sites. The Ritz and the Alto alone have a massive followers list of 9.5 lacs on Facebook. And from here the count will only increase.
While this type of marketing attracts a huge chunk of social media users towards these cars, it will also help the present owners share their miseries and displeasure from the brand making it an efficient closed-loop system for the manufacturers.
[Source - IBNlive.in.com]
By Shivank Bhatt