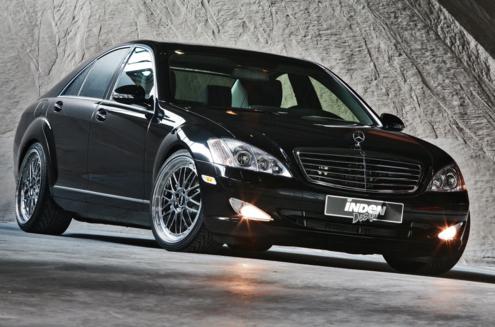 The Mercedes Benz S-Class is one of the world's safest and advanced automobiles. Having won numerous trophies and accolades from across the globe, this luxury sedan can't get any better. Or perhaps it can.
German tuner Inden Design has now come out with a tuning pack for the S500 4MATIC. A stock S500 uses a 5.5 liter V8 engine which delivers 388 hp and has acceleration figures of 0-100 kph in a mere 5.4 seconds.
Once the stock S500 goes into Inden Design's shop, it comes out with a bunch of exterior enhancements. The whole car is lowered by 45 mm, courtesy of a brand new suspension and crucially required too, to keep the car glued on the ground at high speeds. The exhaust system is new and comes with 4 drums of filtering to give a refreshing soundtrack to it. The car rests on 20-inch BBS rims, with 245/35R20 tyres on the front and 285/30R20 rear.
Raise the hood, and you'll find the same old engine. Drive it, and you'll at once notice more power. By re-coding the ECU, Inden could distil 27 hp more from the stock V8 which now breeds 415 hp. If you have a S500 4MATIC and want to get 27 hp more from your engine with wider tyres and new exhaust, head over to the Inden website for further directions.
Source- Carztune