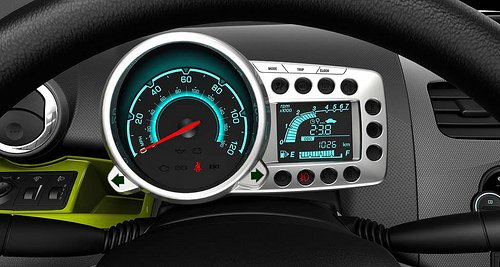 Welburn speaks about why sometimes form is preferred over function
Ed Welburn, GM's Global Design Chief was the special guest at the launch of the Chevrolet Beat last Monday. He gave a short presentation on the GM's design division and how the present line-up of cars were designed and brought to life.
At the end of the conference, we sat down with Ed and asked him a few questions, mostly revolving around the Beat. According to Ed, some of them were "tough" while others were "interesting."
IAB - Why is design given more importance?
Ed - A brand needs to stand for something and that is represented by design. Customers today appreciate contemporary and spirited design and that's what we're doing.
IAB - Will we see a Chevrolet Beat sedan, MPV with equally interesting design?
Ed - The Chevrolet Beat, right from day one, was designed to be a hatchback. The sedan and MPV were not taken into consideration while we designed this vehicle.
IAB - What about the design of the next generation Aveo (T300) which comes in next year in India under a different name?
Ed - The design of the next generation Aveo will be similar to the Beat. There will be consistent use of components across the range for cost benefit. (hints - placement of rear door handle, motorcycle inspired cluster etc)
IAB - Tell us something about GM's design studio in Bangalore
Ed - The design studio here has progressed so well that it can now develop a full-fledged small car independently. They have developed concept cars, but many of them of internal purposes which the media or people don't get to see.
IAB - What about the design of the Chevrolet Beat?
Ed - The Beat, from the basic design perspective is meant for the world. It was designed in Korea while the concept car was built by one of the suppliers in India.
IAB - How different is the US-spec Beat compared to the Indian version?
Ed - The wheel size, rear seat dimension, Interior fabric and engine displacement will be different.
IAB - Tell us about the placement of the door handle on the C-Pillar
Ed - We brought the door handle next to the C-Pillar which made the body aerodynamic, resulting in lesser wind noise and more fuel economy. We were able to bring the body 40-50mm inside without shrinking interior space. It also gives it a unique look as this has not been done before.
IAB - What about body colors? What's your take on them?
Ed - Color represents a car's personality. Many markets today have a color palette which is vibrant, while some others are not. For example Korea has more of white and gray and in Europe, people prefer gray. If the economy is tight, people go in for conventional colors which help them boost resale value of their vehicles.
IAB - What is GM's primary goal for the future?
Ed - For GM design is a bigger priority that anything else. Developing a full product line with unique design is our aim.