 New Year is a week away!. Are you looking to buy a New Year present for a car lover and you're feeling stumped? Help is at hand !
Introducing, Road Mice - which will help you Cruise through the internet in style !  These are wireless computer mice modeled on some awesome muscle cars: Chevrolet Corvette, Camaro, Ford Mustang, Dodge Charger. In case you were having too much fun speeding, there's even a Highway Patrol car (to intercept at times ;-) Each mouse comes in several color choices and all have working headlights - comes handy as a desktop searchlight.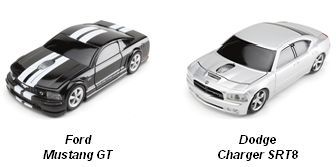 As you would expect from muscle cars (which boast less or no practicality), these mice are not exactly ergonomic. So this gift is best suited for casual computer users who care more about the style factor than functionality. But hey, at least they're more useful than a toy car !
Its yours for a price of $44.95 per piece at RoadMice.com
Happy Cruising !