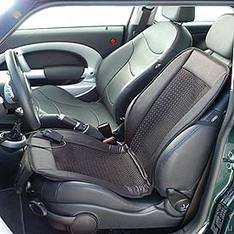 One feature we loved in the Audi A4 we drove a while back, has to be the air circulation feature which fires cold air into your back, through the seat pores, and keeps it sweat free.
You would love such a feature on your daily commuter, wouldn't you? Unfortunately, not many of us have the cash to buy an Audi A4 to enjoy this feature. For us, there's a new kid on the block which can make your Alto drive closer to the Audi! In terms of features, at least.
This Cooling Car Summer Seat orders its built-in fan to blow cold air and keep your rear-end cool always. Powered via your vehicle's cigarette lighter outlet, this device is a plug-and-play type and costs $60 a pop.
Source - This Next