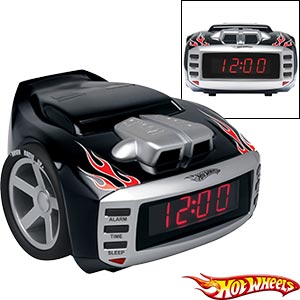 A clock shaped like the front of a car is the first thing a petrol head wants to see when he wakes up, if not a real car.
Based on a Hot Wheels car called the "Nitro Doorslammer," the 'Snore Slammer' is sure to slam the brakes on your early morning dreams with its noise.
It has a LED display and integrated FM. You turn the wheels to control the volume and you either wake up to the radio or to "custom sounds."
What's next? A car shaped clock with a V6 engine that accelerates if you ignore its warning?
Source - Amazon