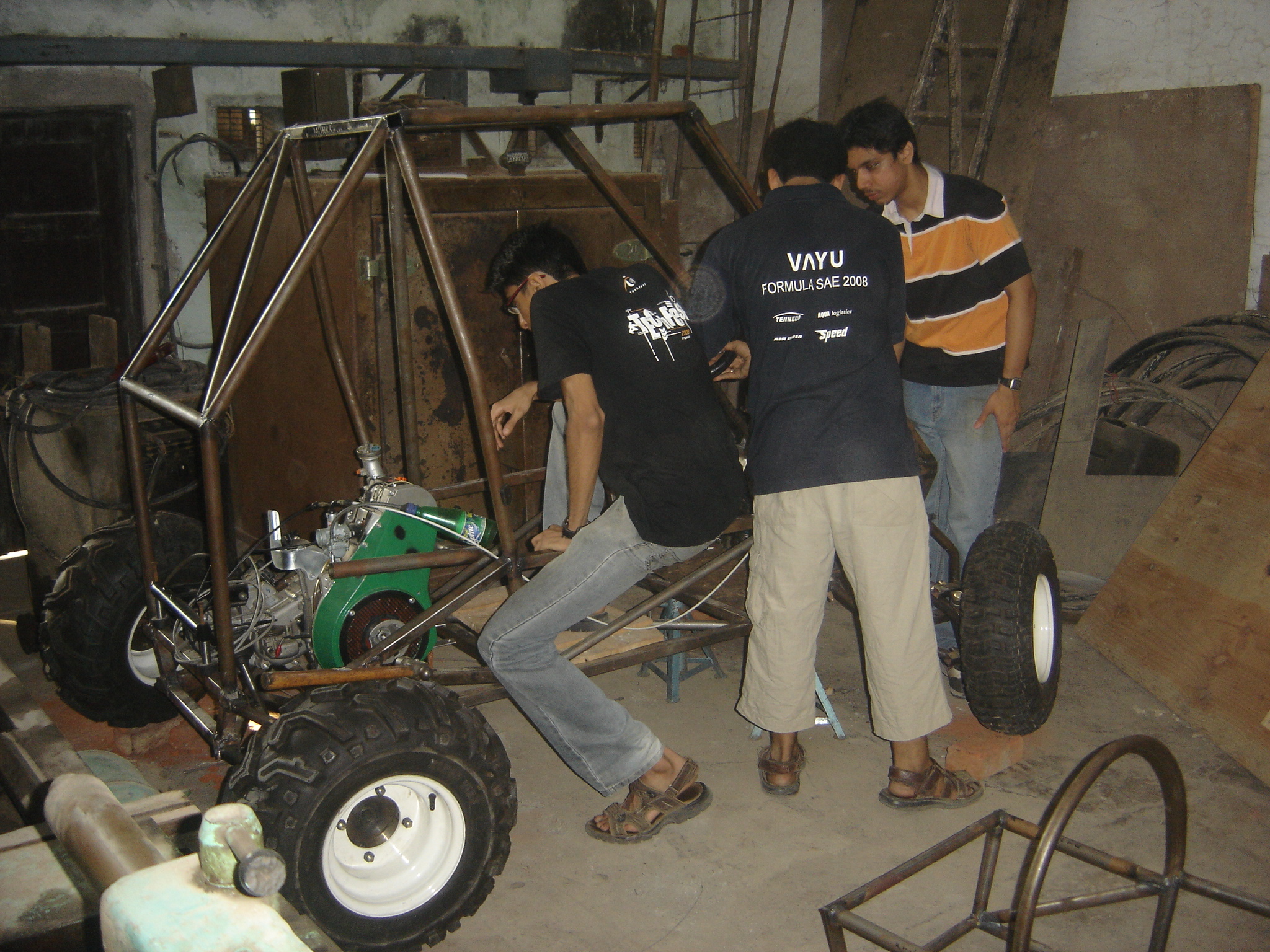 Indian Institute of Technology Bombay sponsored by Jaypee group
Now we feature the first of the IIT's, IIT Bombay and this is how their team looks like-

Faculty Advisor:
Prof.C.Amarnath
Prof. Ramesh Singh
Prof. Guha
Team Captain:
Shyam Jade (Mechanical Engineering 4th year)
Engine Team:
Sulabh Jain (Mechanical Engineering 3rd year)
Rejin Varghese (Mechanical Engineering 2nd  year)
Ashish Vora (Mechanical Engineering 2nd  year)
Steering and Suspension:
Kashyap Mohan (Metallurgical Engineering 2nd  year)
Nitish Wagle (Mechanical Engineering 2nd  year)
Ashwin Raghavan (Mechanical Engineering 2nd  year)
Ashwin Krishnan (Mechanical Engineering 2nd  year)
Brakes:
Mayank Garg (Mechanical Engineering 2nd  year)
Vaideesh Loganathan (Mechanical Engineering 2nd  year)
Vivek Rajeevan (Mechanical Engineering 2nd  year)
Mayur Srinivasan (Mechanical Engineering 2nd  year)
Chassis:
Mayank Garg (Mechanical Engineering 2nd  year)
Shakti Bothra (Mechanical Engineering 2nd  year)
Ashwin Carvalho (Mechanical Engineering 2nd  year)

Electricals:
Mihir Mulay(Electrical Engineering 4th year)
Snehil(Mechanical Engineering 2nd  year)
Marketing and Operations:
Gunjan Shah (Mechanical Engineering 4th  year)
Tarun Mathur (Mechanical Engineering 4th  year)
Siddharth Jain (Metallurgical Engineering 3rd  year)
Jaideep Bansal (Mechanical Engineering 3rd  year)
That is quite a structured team that we have. Lets wish them all the best!
And their vehicle-
Weight                              255 kg (without driver)
Maximum Speed               50 km/hr
Suspension Specifications
Type                                Unequal Length, Non parallel A-arms
Travel                              10" (Front), 8" (Rear)
Shocks                             Custom made springs, dampers from Gabriel India, direct actuation
Brake Specifications
Master Cylinders                Single Cylinder (Front & Rear)
Adjustments                      Brake Bias adjustment
Engine and Drive Train Specifications
Engine                              Lombardini LGA 340
Transmission                   Mahindra Champion Alfa
Final Drive                        Customised Shaft-CV assembly
Electronics Specifications
DAQ 16 channel, 1600 bytes / sec sampling rate, RS-485, SD Card Data Storage
Weight Reduction:
Extensive use of custom designed and manufactured parts – hubs, uprights, springs, etc. Advanced Finite Element Analysis for various parts ensures that the parts are not overdesigned. Data from the Data Acquisition System is used to refine estimations of the forces on various parts of the vehicle – improving the Finite Element Analysis. Smart packaging in smaller wheels reduces unsprung mass substantially
Baja SAE India gives us exactly what we need-A stage to showcase our talent and put our knowledge to the test competing with the finest others in India. The meticulous planning required for the event requires a high level of team work and cooperation. The competition gives us the opportunity to gain practical/working knowledge of such a complex machine.
In its rookie year at the event, IIT Bombay Racing plans to demonstrate the immense multidimensional capabilities of our car and finish in the top three teams. We then plan to take part in competitions at the international level.
Details of Team Sponsor-Jaypee Group
The Jaypee Group is a well diversified infrastructural industrial conglomerate in India. Over the decades it has maintained its salience with leadership in its chosen line of businesses - Engineering and Construction, Cement, Private Hydropower, Hospitality, Real Estate Development, Expressways and Highways. The group has been discharging its responsibilities to the satisfaction of all its shareholders and fellow Indians, summed by its guiding philosophy of "Growth with a Human Face"
IIT Bombay is one of the premiers engineering institutes of the world where the best brains of the country gather to become world class engineers of tomorrow. With an esteemed faculty that inculcates innovative and logical thinking to shape the finest brains, we have taken up the challenge posed by Baja SAE India to prove our worthiness.
IAB Comment- IITians bring honor and accolades to India. They project India to the world as a country with bright brains and immense strength.
IIT Bombay Racing has got a very competitive vehicle, and it seems to me like they have kept is simple (Or are you guys not disclosing the complicated details?). The ingress and egress should be very easy with such a wide and tall entry area (speaking with input from the photograph), but body roll might be an issue, which the custom made springs and dampers should take care of, hopefully.
We wish them success in the competition. Thank you so much for participating on IAB.