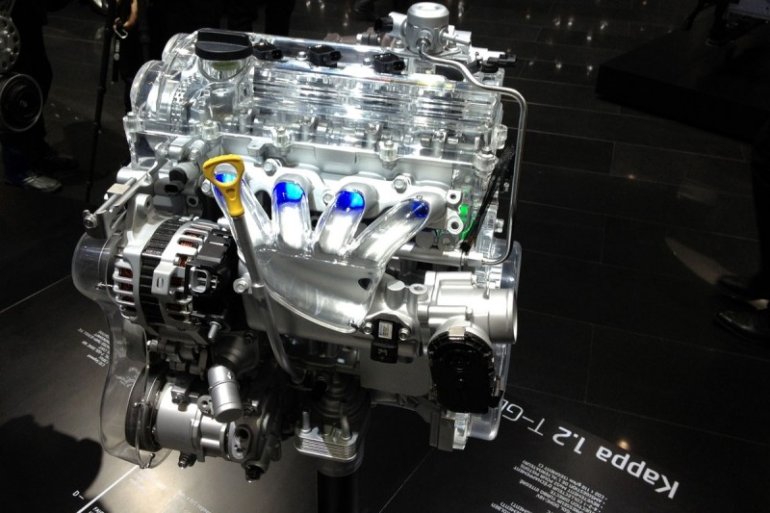 With emission norms tightening by the days, it becomes imperative for manufacturers to use turbo charging methods to meet them. Hyundai has four engine options for its i10 model –1.0L Kappa, 1.1L Epsilon, 1.2L Kappa and a 1.25L Kappa engine. None of them are turbocharged till date but that may be about to change.
Hyundai has gone public about the 1.2l T-GDi Kappa turbocharged petrol engine which will power their future B- and C-segment vehicles. It uses a DOHC, 4 valves per cylinder layout with direct injection and variable valve technology, similar to Ford's Ecoboost engine.
Although no power figures have been released, expect the ponies to be around the range of 80-90 bhp. Thanks to the turbocharger, the engine emits less than 110 grams of CO2 per km.
If we had carefully read the press release issued at the unveiling of the Hexa Space concept during the Auto Expo, we would have already discussed this engine's possible appearance on the next generation i10 (codename - BA), expected to reach the market in late 2013.
Read about the next generation i10
There's a good chance that the new i20 could also drop the current engine lineup and adopt this new engine in the international markets. However, Hyundai has not revealed any plans of introducing it on the fluidic i20 in India. Also count in the fact that petrol car sales are dull in this segment.
Perhaps Hyundai is preparing its engine plant for this new technology. Hyundai manufactures the i10 for the whole world at its Chennai plant and the 1.2 T-GDi Kappa could replace some of the naturally aspirated engines to meet future emission standards, while delivering better performance without consuming extra fuel.
[Image Source - AutoForum.cz]