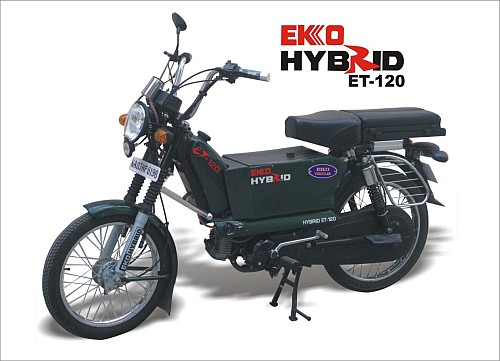 World's first hybrid two-wheeler from a company we've never heard of
Many of you might have thought hybrid two-wheelers are a joke. For those of you, here's some serious proof that will make you eat your words.
Bangalore based Eko vehicles recently launched the ET-120 which is India's first hybrid two-wheeler.
The ET-120 uses a 70cc petrol engine and an electric motor to propel the wheels, which helps it return 120kmpl!
That is more than any Hero Honda, Bajaj or TVS.
The dual-power bike was possible thanks to a tie up between Eko and US based Emerging Vehicle Technologies. The vehicle can reach a top speed of 65kmph which is more than sufficient for crowded metros. The power and torque figures according to the company is that of a 120cc petrol engine.
Alan Rubeinsten, a U.S collaborator -
We developed a hybrid technology which will allow the electric motor together with the gasoline motor or petrol motor to be in combination. So, they should get unlimited range. So, when you drive in gasoline, you are charging the motor
This wonder bike of 120cc capacity will halve carbon emission.
Anil Ananthkrishnan, Chairman and CEO, Eko Vehicles -
Their calculation is that half a tonne of carbon emission is reduced as compared to a gasoline power vehicle when you use a electric vehicle
The ET-120 is priced at 40,000 rupees (roughly US $856) and that makes it the best electric vehicle you can buy in India today. Not exactly today since the bike goes on sale next year in the month of May.
Rumors of Mahindra's hybrid two-wheeler is starting to make sense after this development.
EKO ET-120 High resolution Image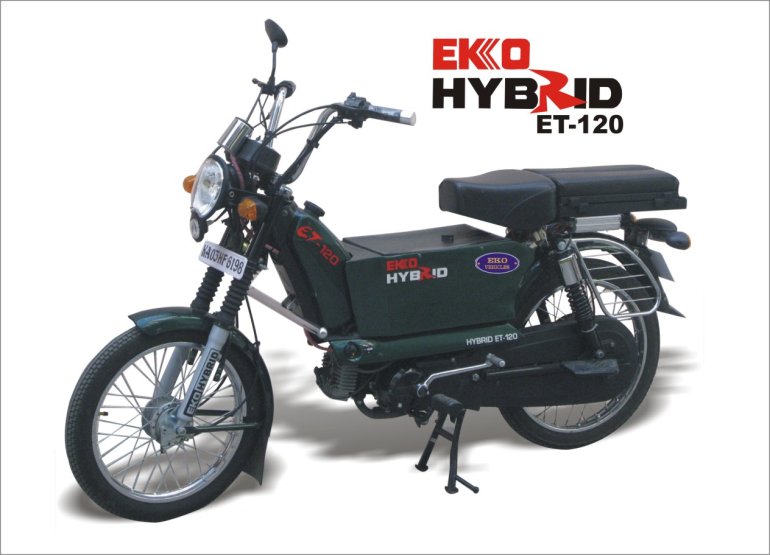 Press Release
Eko Vehicles shocks the two wheeler market

Bangalore, December 16, 2009: Bangalore based Eko Vehicles launched two revolutionary 2-wheelers, which will create an upheaval in the two-wheeler automobile auto industry. Two new variants of EKO, namely the "Strike" and "ET-120" Hybrid version will storm the market shortly.Having pioneered electric vehicles, and delivered over 18, 000 high-powered electric two-wheelers in India, Mr. Anil Ananthakrishna, founder and Chairman of Eko Vehicles Pvt. Ltd made the breakthrough announcement to the press here today. US and UK collaborators Mr. Alan Rubenstein and Mr. Richard Harmel were present at the press briefing.

"Eko-Strike" breaks price and service barrier: By offering the most economic, reliable and rugged Electric two-wheeler to the Indian market at the unbelievable price of under Rs 22,000/. This vehicle does not attract road tax and does not need to be registered. This model vehicle is to EV what DELL is to Computers: the customer can specify the battery capacity as per his daily commute requirements.

Five-year warranty: Eko's quality products are offered with a five-year warranty, which is a first in the industry, demonstrating that quality is not sacrificed even at the incredible pricing.

India's first hybrid two-wheeler being launched by EKO:

US based Emerging Vehicle Technologies Inc. has partnered with EKO for the breakthrough development of a Hybrid two-wheeler. This wonder bike with "with "Electric-Petrol Hybrid" technology is fitted with high power electric motor and 70cc petrol engine. The hybrid range is 120 km/ltr as compared to the normal range of 40 km/ltr. The mind-boggling torque and power equivalent to a 120cc IC engine will dictate industry standard for sometime to come. The price range will be around Rs 40,000/- for this vehicle, with maximum speed of 65 km/hr, and hill-climbing capability of 8°, as compared to normal 3.81°.
Quotes borrowed from - Rediff