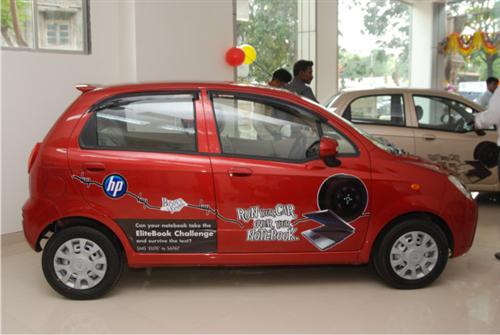 Note: IAB does not endorse any products and only provides information which will be relevant before you make a purchase.
Advertising sure is a magical land where companies pay celebrities millions of dollars just to hold the products in their hand. It is a profession which is requires you to wear stylish glasses and sharp clothes and think of jingles that can be used to irritate people on radio and TV. Now, a new buzzword - Carvertise will help you buy a brand new car for just Rs 2000/month.
IAB recently visited Team Associates office in Mumbai to find out what's the fuss in Carvertise.
What is it?
The deal is that you purchase a new Chevy car (Spark or U-Va) and then you sign a contract with Team Associates which allows them to put a few advertising stickers on your car. In return, they pay you Rs 6000 monthly for doing so.
So Chevy Spark PS (base model) will cost you around Rs 400,000 (on road, Mumbai). You have to pay Rs 50,000 as a deposit to book the car. Assuming you take a loan for the entire remaining amount (Rs 350,000) at the rate of 12% for years, your EMI comes to Rs. 7,708, which means you only pay Rs 1,708 per month for the car. That's less than my cellphone bill!!
What's the catch?
When things are this rosy, you just know that there is something fishy. That is why we dug a little bit deeper to find out:
The lock in period of the agreement is just 30 months. So, after 30 months they may or may not renew the agreement. That means you are not assured returns over the 5 years of the loan period.
If you miss 2 EMI's of the car, the agreement stands VOID.
The car insurance should not lapse for more than 15 days. Else, the agreement stands VOID.
If your car meets with an accident, the car needs to be on road within the next 45 days. Else, the agreement stands VOID. This one is tricky because the repairing process of the car is something that is totally beyond your control.
You cannot take your Spark anywhere in India for more than 90 days.
You cannot change the registration till 60 months from the date of advertisement agreement. If the sticker is damaged they will replace it free of cost for 2 times. Any further replacements of the sticker will be charged at Rs 8,000!!
How does the sticker look?
If you think that the sticker may be discreet then you have missed the point completely. It is as loud as the Hawaiian beach shirt among a couple of business suits. We have a couple pics of how your car would look like when the stickers are in place.
There is one more catch: You basically have no control over the adverts that will be displayed on your car. So if you work for Microsoft and they put an Apple advert on your car, you are going to get yourself fired!
Verdict:
If you absolutely don't care of what you drive or what people think of you and are comfortable with buying a car that will be deprecated by GM anytime then sales(At)teamassociates(dot)in is their contact address.
Carvertise Chevrolet Spark Image Gallery