Unveiled at the 2013 Indonesia International Motor Show in September, the Honda Mobilio continues to tour Indonesia before its market launch next year. PT Honda Prospect Motor (the local subsidiary of Honda) has displayed the Mobilio at a regional auto show in Makassar, located in the Sulawesi island of Indonesia.
The Mobilio will enter production next year in Karawang, West Java, in a newly built plant. Local deliveries of the MPV will start in February and Honda Prospect Motor has already received in excess of 4,500 pre-bookings.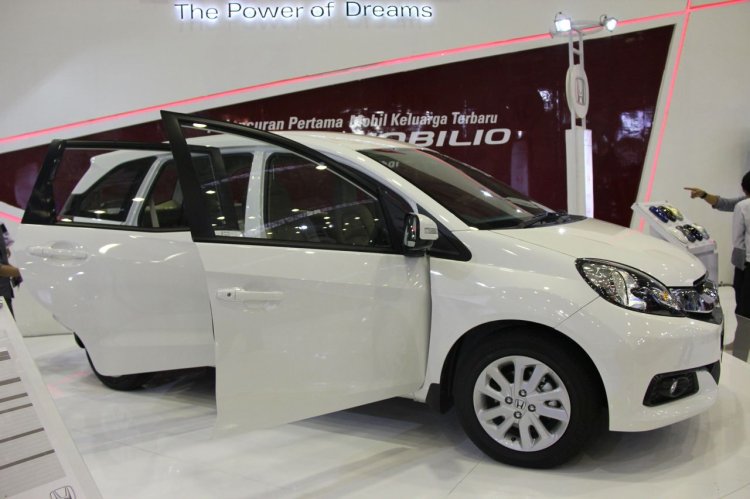 In Indonesia, the Mobilio will be sold only with a single engine option - the City's 1.5-liter i-VTEC motor. Power and torque outputs, though undisclosed, are expected to be identical to the City's 118 PS and 144 Nm of torque.
The Mobilio gets two transmission options - a 5-speed manual and a CVT automatic gearbox. Three trim levels will be available at the time of the launch – 'S', 'E', and an 'E CVT' variant.
Check out our exhaustive coverage on the Honda Mobilio
India should get the Mobilio in early 2014. Along with the petrol engine, expect the Mobilio to feature the Amaze's 1.5-liter EarthDreams diesel engine as well.
Both in India and Indonesia, the Mobilio will rival the Maruti Ertiga. Prices for the Mobilio in Indonesia are quoted from 150-180 million Indonesian Rupiah (from INR 8.22 lakhs to INR 9.86 lakhs).
[Image from Otosia.com]