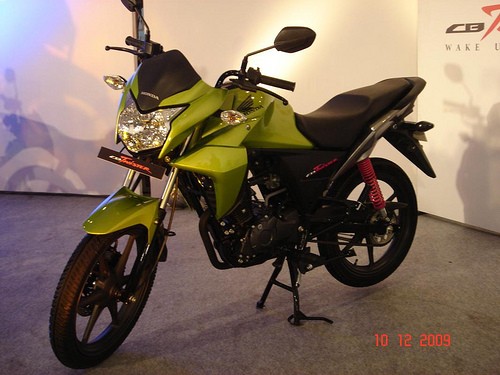 Honda CB Twister takes commuter bikes to new level laden with features and styled like CB1000R
With 9 bhp of power and a claimed mileage of 70kmpl, Honda's new CB Twister promises to shake up the 100-125cc segment. The lion's share of the 100cc market belongs to Hero Honda, and their bikes also boast of such credentials. The path Honda took with this motorcycle is entirely different to one adopted by its Indian partner.
The CB Twister looks everything but a Hero Honda Splendor or Passion. Many of us yesterday expected to see a plain and boring commuter with puny tires and no personality.
By making the move of introducing a lower capacity motorcycle, Honda expects to see a change in customer perception and expand this section of the market.
As the name denotes, the 110cc CB Twister is inspired by bigger the CB1000R. The core USP of this motorcycle is its style, but there are plenty of other reasons why customers would buy this product.
You get features which aren't seen on this side of town. Tubeless tyres, maintenance free battery and viscous air filter improve performance and reduce maintenance cost. Other features like short muffler and half chain are attributes that define how stylish this motorcycle is.
Though the design of the Honda CB Twister has been penned at Honda's Italian design studio with the CB1000R as inspiration, the motorcycle is manufactured for the demanding Indian customer. Primarily to address the need of the Indian youngster in both rural and urban areas, the motorcycle will also be exported to other countries in the future.
Honda isn't planning to introduce fuel injection or more powerful engines on the CB Twister, though it expressed interest in bringing bikes of capacity 180-250 to India in the future. Honda is also studying the possibility of electric and hybrid two-wheelers for Indian market in Japan (as revealed by Japanese designers of this motorcycle) but they too are at quite a distance.
The CB Twister is available in five colors - Yellow, Green, Black, Red and Blue. The base model is priced at 42,000 rupees and will be available in showroom in India by the end of February 2010.
Honda CB Twister Image Slideshow
If you can't view the slideshow above, visit the Honda CB Twister Image Gallery for images
Honda CB Twister Official Image Slideshow
If you can't view the slideshow above, visit the Honda CB Twister Official Image Gallery for images
Press Release
Honda Motorcycle & Scooter India Pvt. Ltd. (HMSI), the 100% owned 2-wheeler subsidiary of the Honda Motor Company, Japan – the world's largest manufacturer of 2-wheelers, today marked its foray into the mass segment through the launch of its first 110 cc bike CB Twister in the presence of senior Honda officials.

Living up to the style aspirations of Indian two-wheeler customers, CB Twister offers style, unmatched performance, good mileage and convenience at an affordable cost. The new age styling of the bike is inspired from world trend CB1000R. The screenless layered front cowl, eye-catching headlight, floating side cowl, muscular fuel tank, sharp rear with short tail, multi reflector tail lamp, short muffler and half chain case makes the bike style icon in the segment.

CB Twister will be the best in class in terms of acceleration & pick up. The CB twister is equipped with all new 110 cc engine, delivering 9BHP of power. The rigid twin pipe frame & V-shaped alloy wheels provides stability and enhances the maneuverability. Tubeless tyres are the unique feature of CB Twister, for the first time in the segment.

The introduction of this bike will create a new segment and expand the 2-wheeler market in India. Powered with 110cc engine, CB Twister will deliver a mileage of 70 kms per litre*. The bike is equipped with maintenance free battery & viscous air filter for more convenience. Strictly adhering to the BS-III norms which will come into effect from April 2010, CB Twister would be one of the most environment friendly bike. CB Twister is targeted at the customers who aspire for style and performance along with basic needs of mileage and comfort in limited budget.

The price image for ex showroom Delhi is Approx Rs. 42,000/- (Kick Drum)

CB Twister, depicts world's latest trend with unmatched performance. The prefix "CB" has been derived from Honda's stylish world-trend series symbolizing naked sports and the word "Twister" depicts swirling winds with great strength. Taking the inspiration for Drawing from the iconic CB1000R design.

The CB Twister is going to hit the Indian roads by end of February 2010. The bike will be available in three variants;
1. Kick Drum Alloy
2. Self Drum Alloy
3. Self Disc Alloy (with 240 mm front disc brake)

All variants will be available in five exciting colors i.e. Pearl Amber Yellow, Candy Sonic Green, Pearl Nightstar Black, Pearl Siena Red and Pearl Fuji Blue.

Excerpts from Company officials:
"Honda has been able to achieve the significant milestones because of its focus on developing products that meet the expectations and aspirations of the customers. Honda has continued to introduce innovative models with advanced technology and attractive features that are also environment friendly" - Mr. Masahiro Takedagawa, Operating Officer, Southwest Asia Honda Motor Co. and President & CEO, Honda Siel Car India & Honda Motor India

"We will continue to provide exciting products & lead the expansion in each two wheeler segment. The CB Twister meets the new age customers' demand specially "value for money". The bike is a perfect combination of new age style and unmatched performance with economy. With the latest cutting edge technology, the bike is bound to expand the 100-110cc segment further." - Mr. Shinji Aoyama, President & CEO, Honda Motorcycle & Scooter India Pvt Ltd.

"The CB Twister will be available to customers by end of February 2010. With never seen before in the segment new age style, unmatched performance, economy of 70 Kms / Ltr*, we expect to sell 2.20 lac units in the year 2010 -11" - explained during the new product presentation by Mr. N.K.Rattan, Operating Head, Sales & Marketing, Honda Motorcycle & Scooter India Pvt. Ltd