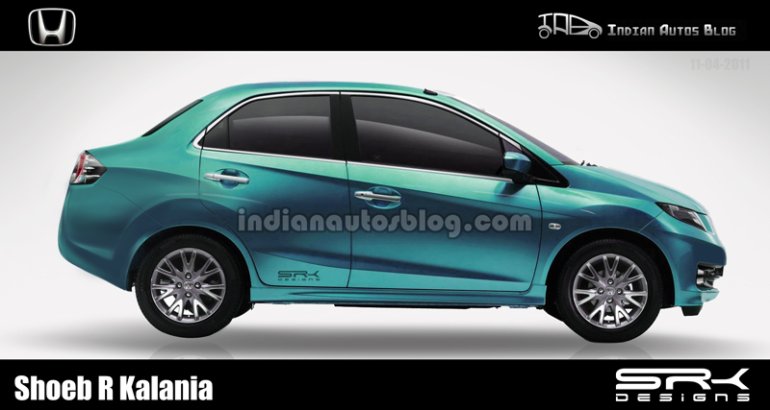 After much delay, Honda is now focusing on diesel cars for the Indian market.
BS Motoring reports that Honda's first ever diesel engine for the Indian market will be plonked in a sedan version of the Honda Brio.
Speculations of a sedan based on the Honda Brio platform started in 2011. We saw many renderings hit the web from famous auto designers, and we had our own image wizard SRK dish out one (inset).
According to the BS Motoring report, the diesel engine could be a four pot featuring Honda's i-DTec technology. It will be derived from the 1.6 Litre 'EarthDreams' diesel engine that we saw in the Honda Civic from Europe, with outputs ranging between 70 bhp to 110 bhp.
Honda has ensured a wide power range because the Jazz and the City are slated to get it in the future. Complete localization will bring down the price, while there is no plan to mate it to an expensive automatic transmission.
The Brio-based sedan (codename - Honda 2TP) would be under 4 meters long to gain additional tax benefits. It will also come with a 1.2L i-VTEC petrol engine to make sure it covers both sides of the market spectrum.
The Honda Brio sedan will compete against Maruti Suzuki Dzire, Tata Indigo CS and the upcoming Mahindra Verito compact sedan.
The sub-4 meter category has witnessed a tremendous boost in sales in recent years. The Mahindra Quanto is an excellent example of a manufacturer showing ingenuity with a sub-4 meter vehicle. The new Maruti Dzire is another case in point.
On an immediate basis, Honda will launch the Brio Automatic in mid October. It will be followed by a CNG version of the Honda City as a stop-gap arrangement for improving volumes until the diesel engine is ready.
[Source: BSMotoring.com]